By Margie Wuebker
mwuebker@dailystandard.com
ST. HENRY -- Jared Schwieterman is not one to complain, but there are days -- lots of days -- when he longs for the same everyday concerns as other boys his age.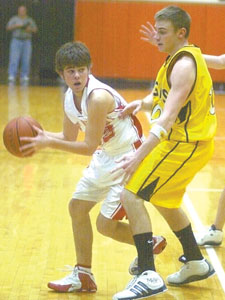 Instead of cars, sports, girls and parties, the 16-year-old St. Henry High School sophomore deals with a rare disorder requiring blood tests, potent medication and the likelihood of a bone marrow transplant.
The unexpected diagnosis of aplastic anemia came in February 2004. Jared, an eighth-grader at the time, experienced cramps in his side following a junior high basketball game. A trip to the hospital emergency room ruled out appendicitis but the doctor ordered blood tests to rule out other problems.
Jeff and Judy Schwieterman did not expect a telephone call the following day telling them to take their son to Children's Medical Center in Dayton as soon as possible. Tests results indicated abnormal cell counts pointing to a serious problem.
Additional tests indicated the possibility of aplastic anemia or leukemia, with a bone marrow biopsy ruling out the latter. "We knew about leukemia but neither Joe nor I had heard of aplastic anemia," she says. "We sure got a crash course in no time flat, and Jared became a pincushion."
Specialists explained platelets generally number around 200,000 in a healthy person; Jared's had dropped to 5,000. His red blood cells registered half the normal rate and low white cell levels made him a target for any germs that came along.
"The doctor told me if I had those kind of numbers I would not be able to drag myself out of bed," Jeff Schwieterman recalls. "And to think I even got after Jared for not hustling on the basketball court."
No one knows what causes aplastic anemia (which is not a form of cancer) and triggers bone marrow to stop producing sufficient blood cells. Researchers have linked exposure to chemicals or radiation to the disorder that affects fewer than 1,000 people per year. Others suspect it could be hereditary or related to a viral infection.
Doctors suspect the disorder evolved over time in Jared's case; a plausible explanation why he did not notice being so tired and symptoms went unnoticed. In retrospect, the Schwietermans recall their son being short of breath and pale. He also showed bruising from time to time, although, something not uncommon for a participant in sports like football, basketball, baseball and golf. However, he never exhibited a common symptom like nosebleeds.
The Schwietermans watched in amazement as pink crept back into their son's cheeks thanks to platelet and blood transfusions. Immune suppressant therapy and regular doses of cyclosporin, an anti-rejection drug prescribed after organ transplants, certainly worked wonders.
"I felt fine and the drugs did not make me sick," the dark-haired teen says quietly. He smiles shyly when asked about side effects, noting more visits to the barber and more shaves are in order due to increased hair growth.
Slowly weaned off the anti-rejection medication last fall, Jared made the varsity basketball team and saw hardwood action before blood counts dropped and symptoms reappeared. Intravenous treatments resumed, but they do not seem to be working as well as the first round. He has missed considerably more school and continues to play catch-up in the area of homework.
A bone marrow transplant offers the only chance for a cure at this point. Jared's three siblings, including 13-year-old Darin who hates needles, have been tested but none had matching tissue types. The family then turned to the National Bone Marrow Registry, which lists millions of volunteer donors. Ten possible donors were located but their status has not been confirmed at this point.
"There is an 80 percent success rate for someone having a bone marrow transplant under the age of 21," Jeff Schwieterman says. "The rate drops to 60 percent over 21, but there are no guarantees. A young person who had a transplant last summer with a sibling donor did not make it. We will have to take what God gives us and hope it works."
Jared, who logged two minutes as point guard during a recent St. Henry tournament game, faces a six-month ordeal including hospitalization at Children's Medical Center in Cincinnati followed by residency within five minutes of the facility. He does not relish the thought of three months at home without visitors.
"I try not to think about it because whatever is going to happen will happen," he says. "I just want to get it over."
The Schwietermans feel blessed despite the challenges they face and the uncertainty about what lays ahead.
"Family, friends and the entire community have reached out to us," Judy Schwieterman says. "It helps so much to know others care. This would be a lonely journey to face alone."