By Ryan Hines
rhines@dailystandard.com
FAIRBORN -- The North College Hill Show featuring O.J. Mayo and Bill Walker is headed to state after a 97-52 pasting of Versailles on Saturday afternoon at the Nutter Center in Division III regional finals action.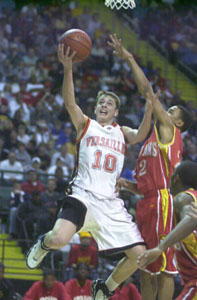 Mayo and Walker combined for 51 points in just over three quarters of play and each of the two juniors had plenty of highlight reel plays along the way in the 45-point Spartans victory.
North College Hill (24-1), the defending Division III state champion, now moves on to Columbus for the D-III state semifinal on Thursday at 5:15 p.m. to face Archbold (21-4), which is back to state for a second straight year. Cleveland VASJ (20-6) will battle Wheelersburg (23-2) in the other state semifinal contest at 8:30 p.m.
Mayo, the defending Mr. Basketball in Ohio, showed why he's the likely repeat winner of the state's top award as he helped the Trojans put this game out of reach in the early going. Mayo had 15 first-quarter points, including a spectacular trey to end the first eight minutes of play.
Walker made a steal in the lane and then fired a pass ahead to Mayo, who calmly looked at the clock with two seconds left on the clock, and then took a dribble and hit a one-legged runner from just inside midcourt and hit a trey, nothing but net. The near halfcourt jumper put the Trojans up 26-7 after the first quarter.
Mayo picked up his third foul early in the second quarter at the 6:20 mark and sat on the bench for the rest of the first half but in his absence, Walker displayed the skills that have Division I colleges all over the nation drooling.
Walker had six points, including two NBA quality slam dunks, in the first quarter but showed his all-around game in the second frame. Walker scored 11 points in the second quarter, which included a pair of three-pointers, four rebounds and four steals.
North College Hill looked like the top team in the state in the first half shooting 65 percent from the field (20-of-31), 54 percent from three-point range (7-of-13) while also outscoring Versailles 19-0 in fastbreak points.
"Our defense set up everything for us," said North College Hill head coach Jamie Mahaffey. "We got in the passing lanes, got some steals and got some easy baskets."
"We wanted to come out and run and put on a good effort," said Mayo. "We're not done, we want to go to Columbus now and win two more games."
The Trojans' lead continued to grow in the second half reaching the 50-point pleateau early in the fourth quarter and Mahaffey called off the dogs with 6:53 left on the clock.
Despite the lop-sided deficit from the first quarter on, Versailles played hard throughout, a trademark for the Tigers' program over the years.
Versailles junior Jordan Liette came off the bench and showed plenty of promise for next season with a team-best 11 points with a variety of nice moves in the paint. Senior guard Adam Barga capped a strong career with the Tigers scoring 10 points.
"I can't say enough about the kids and the things that they accomplished this year," said Versailles head coach Dave Peltz. "We went 20-5, competed for the MAC title all year long, made the regional finals and I was just really proud of the way that our kids conducted themselves all season long."
Although Peltz was quick to praise the efforts and accomplishments of his own team, he refused to comment on his opponent despite four attempts at questions focusing on the talents of Mayo and Walker of North College Hill.
Barga didn't pass up the chance to offer his opinion on North College Hill.
"We didn't come out and hit any shots and then they had their highlight reel dunks and got a big lead," said Barga. "I usually don't let my emotions show, but you can't beat an AAU team. It doesn't matter if you put together an all-star team from your high school from the past 20 years, you can't beat somebody that's been playing for years like that. I usually don't talk about stuff like that but I'm really disappointed. They're a good team and there isn't any team in the state that's going to beat them, they're going to win it.
"They (Mayo and Walker) can jump, go between their legs, cross you over and make you fall on your butt.... they are by far the best two basketball players that I've ever played against, without a doubt," added Barga."