By Tim Cox
tcox@dailystandard.com
The Celina Gardens apartments at 710 Devonshire Drive has a new owner who plans to spend $4.2 million to acquire and rehabilitate the aging units.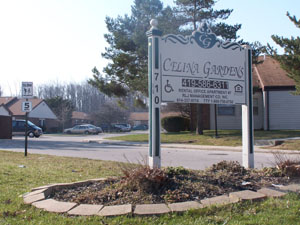 Buckeye Community Hope Foundation has purchased the apartments and has been approved for $1.55 million in low-interest loans through the Ohio Housing Finance Agency to help pay for the planned improvements. The non-profit development firm, which is committed to providing affordable housing for low-income people, is the same group that planned to partner with Brickyard Investments to redevelop the former Mersman Furniture Co. site into a mix of new single-family homes and apartments for senior citizens.
That project has at least temporarily fallen through because the developers could not convince Celina city officials to pass resolutions of support for the work.
Extensive rehabilitation work at Celina Gardens likely will start by late this summer, Buckeye Community Hope Foundation President Steve Boone told The Daily Standard this week.
"We're taking all the buildings down to the studs and completely refurbishing them," Boon said. When completed, the Celina Gardens apartments will have a new look inside and out. Planned improvements include new curbs, sidewalks, roofs, lights, siding, windows, cabinets, sinks, bathroom fixtures, refrigerators, carpeting, furnaces and air conditioning units.
Residents will be relocated temporarily to suitable housing while work in their apartment goes on, Boone said, with the company paying any difference in rent. About six families will be moved out at a time, in what Boone called a "round-robin rehab."
The residents will not have to reapply to meet income guidelines to return to the revamped apartments because the eligibility guidelines have not changed, he said. Residents earning 35 to 60 percent of the local median income are eligible to live in the two-bedroom units.
Another addition will be a new 1,700-square-foot community room that will serve as a meeting area for residents and an office for the site manager. A vacant apartment unit is now used for this purpose, Boone said. That apartment will be renovated and rented out like the rest of the units.
The community room will offer residents the use of on-site laundry facilities.
Phone: (419)586-2371, Fax: (419)586-6271
All content copyright 2006
The Standard Printing Company
P.O. Box 140, Celina, OH 45822