Although it was just the first day of baseball, it was senior day at Eastview Park Monday as the play of the four seniors on the Celina Bulldogs roster keyed a 9-0 nonleague win over the Fort Recovery Indians.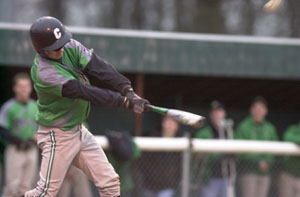 The four seniors -- Joe Clouse, Eric Braun, Darren Fleck and Scott Luthman -- combined to go 6-for-11 at the plate, scoring six runs and driving in six runs. Braun was 1-for-3 with two runs scored and an RBI. Clouse was 1-for-2 with two RBI, Fleck was 2-for-3 with two runs scored and two RBI and Luthman was 2-for-3 with two runs scored and an RBI.
"That kind of production is what kind of leadership that you expect from your seniors," said Celina coach Bruce Boley. "It is important that we continue to get that kind of leadership from the seniors, especially since we have just two full-time starters back from last year's team."
In all, Celina pounded 12 hits, 11 of which were singles as seven different Bulldogs had at least one hit, six different players scored a run and five different players had at least one RBI. The Bulldogs played a strong all-around game with two sacrifice bunts, a sacrifice fly and six stolen bases.
"We did a great job of executing today, especially since this was the first game of the season," said Boley. "We laid down two bunts, had a sacrifice fly, stole bases. Needless to say we still can play small ball." Boley also got a great pitching performance from senior starter Luthman and junior reliever Kyle Pfeffenberger
Luthman pitched five innings of four-hit shutout baseball, did not allow a walk and struck out four. Pfeffenberger pitched two shutout frames, allowing just one hit, striking out three.
"Their starter hit his spots and threw strikes," said Fort Recovery coach Aaron Vaughn. "You know that Celina pitchers are going to throw strikes and both of their pitchers did that tonight.
"We were able to put the ball in play tonight but their pitchers were able to get outs when things mattered," continued Vaughn. "They made all the routine plays that had to be made and that's a sign of a Bruce Boley team. We are young and hopefully this is a game that we can learn from."
"It was nice to see Scott come out and throw strikes. He threw 58 pitches, 44 of which were strikes," said Boley. "Pfeffenberger came in and gave us two solid innings. The two pitchers gave up five hits and no runs and no walks in seven innings, we'll take that kind of pitching every night."
Celina scored all the runs it needed with a pair of runs in the second off of Indian starter Brad Fortkamp. Fleck led off with a walk, Eric Loughridge singled and Dustin Woods reached on an error to load the bases. Clouse then delivered the big hit with a two-run single to rightfield.
Celina blew the game open, scoring three runs in the third. Braun reached on a throwing error to start the inning, stole second, went to third on a wild pitch and scored on a single by Luthman. After a bunt single by Fleck, Loughridge laid down a sacrifice bunt to move up both runners. Luthman scored the second run of the inning on a wild pitch and Fleck scored the final run on a single by Woods.
Celina scored three more times in the fourth as it took advantage of three bases on balls. Fleck had the big hit of the inning with a two-run single.
"I think if we can continue to hit the ball like we did tonight, pitch the ball like we did tonight and field the ball like we did tonight we will continue to improve and we will be all right," said Boley.
Celina hosts Marion Local at Eastview today while Fort Recovery opens the home schedule with Lincolnview today.
Phone: (419)586-2371, Fax: (419)586-6271
All content copyright 2006
The Standard Printing Company
P.O. Box 140, Celina, OH 45822