By Ryan Hines
rhines@dailystandard.com
ROCKFORD -- The Parkway baseball team took advantage of two unearned runs in the fifth inning and got a strong effort from Tyler Brickley on the mound to lead the Panthers to a 3-1 victory over St. Marys on Monday afternoon at Don Black Field.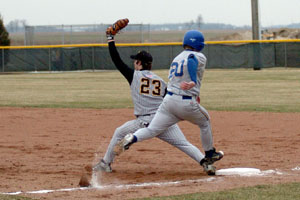 "I thought that it was a pretty well-played game on both sides for the first game of the season," said Parkway head coach Eric Stachler. "We showed there are still some things to work on, but for a first game, I was pretty happy with what I saw."
With the score tied 1-1, Rikki Covarrubias reached on an error and Derik Snyder singled putting runners on first and third with one out.
Trevor Krogman then laid down a perfect squeeze bunt and St. Marys hurler Korey Hullinger was unable to make a play on it allowing Covarrubias to score and leaving the Panthers with runners on first and third.
"The squeeze didn't come as a surprise and we've worked on that in practice, but by watching us on the play, you wouldn't have known it," stated St. Marys head coach Fred Hullinger. "They executed well on that play and we didn't, hats off to them. It was well done with a nice bunt." Hullinger then uncorked a wild pitch allowing Snyder to score putting the Panthers on top 3-1.
"We practice that a lot, especially early in the year, because there will be times that we will have to manufacture runs and we have to execute in those situations," said Stachler. "I like to be able to play small ball, that's the kind of guy that I am, but I think that we can get the job done in a lot of different ways and we'll need all of those ways throughout the season at some point."
The three runs were enough to make a winner out of Brickley who threw a complete game allowing just four hits while striking out seven with just one walk.
"I've had Ty (Tyler) for three years now and he's been a workhorse for us and this year will be no different," said Stachler. "Every time out he's going to take us deep into games and we're looking for good things out of him. He never gave in and just came right at them the whole game."
Brickley wasn't overpowering, but the Roughriders' skipper was still impressed with the senior righthander's performance.
"He threw a nice game, I thought that we would get around on him a little better than we did, but he did a nice job of making us hit his pitches," said Hullinger. "The key was that his breaking ball was going over for a strike."
Parkway jumped on top 1-0 in the third inning when Brickley and Kyle Hamrick had back-to-back singles before a walk to Snyder loaded the bases with one out. Krogman plated Brickley on a fielder's choice up the middle for an early 1-0 advantage.
St. Marys tied the game in the fourth inning when Aaron Pfeffenberger reached on an error and later scored on a double by Koby Frye. Koby Frye led the Roughriders with a 2-for-3 day at the plate.
Snyder reached base three times for Parkway with two singles and a walk.
Weather permitting, Parkway will host Spencerville today while St. Marys travels to Indian Lake.
Phone: (419)586-2371, Fax: (419)586-6271
All content copyright 2006
The Standard Printing Company
P.O. Box 140, Celina, OH 45822