By Gary R. Rasberry
grasberry@dailystandard.com
Celina pounded out 11 hits and got solid pitching from both its aces as the Bulldogs gave first-year coach Nicole Driggs her first varsity win with a 10-0 six-inning run-rule triumph over county rival St. Henry at Feth Diamond in the lidlifter on the 2006 season.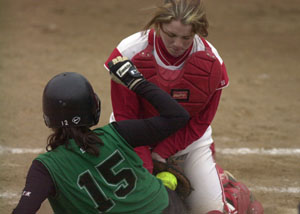 Driggs, the former Celina and Ohio University standout, was happy with the all-around strong play of her team in winning the opening game of the season.
"I'm real proud of them," said Driggs. "The best thing out here today was the team effort. Constantly, there was someone new up there to get a new hit. We were very productive getting people in. I'm proud of them."
The cold conditions to the game did not seem to hinder the Bulldogs, who scored three runs in the bottom of the first inning.
Celina got the opening runs on just two hits as two costly errors occurred on Allison Braun's at-bat. With Amy Harner at third after tripling and Melanie Heyne at first after Karla Buscher walked her, Braun grounded to second. The throw to first was off the mark as Harner scored and then Heyne came all the way around and scored as the throw home was wild, allowing Braun to go to third. Kinsey Schumann later plated Braun with a double to right-centerfield. The Bulldog hit parade got the most out of their hits. Of the 11 total hits, four were doubles and two were triples.
"That's a pet peeve of mine, power hitting," said Driggs. "You're going to see more of that in the program."
Meanwhile, Celina's pitching was solid. Schumann started the game and scattered just three hits and a walk in four innings of work. Heyne came on in the fifth and threw one-hit ball the rest of the way, getting a trio of strikeouts.
"It's the first game of the season and we're working on accuracy," said Driggs of the pitching effort. "They let a few loose, but we're going to get better and better with that. Their pitches are going to get tighter. We're going to hit those spots a lot better."
"I told the girls that we saw two of the best pitchers around here," said St. Henry coach Josh Link. "I hope we don't see pitching like that too often this year because (Heyne and Schumann) are two quality pitchers."
All four St. Henry hits came from two batters. Leadoff batter Brenda Hemmelgarn went 2-for-3 in the game while Janel Bruns went 2-for-2.
"We came out swinging," said Link. "I was pleased with that. I also told them that there were plays I was pleased with. ... I think we were there to make a lot of the plays, but our throwing errors cost us (St. Henry had six errors in the game). That's what I was most disappointed about."
Braun had a big day for Celina, going 3-for-4 with a double and four runs batted in, including the final two in the bottom of the sixth. Schumann went 2-for-2 with two doubles and Megan Sutter went 2-for-3 with two RBI.
Both teams are on the road tonight. Celina travels to Minster to face the Wildcats and St. Henry heads to Shelby County to face the Fairlawn Jets.
Phone: (419)586-2371, Fax: (419)586-6271
All content copyright 2006
The Standard Printing Company
P.O. Box 140, Celina, OH 45822