By Margie Wuebker
mwuebker@dailystandard.com
NEW BREMEN -- From the Nevada desert to the Ohio heartland, two brothers have moved their street rod business lock, stock and headlamp to Bunker Hill Industrial Park.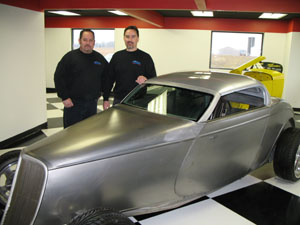 Pete and J.D. Hagan, owners of Hagan Street Rods, hosted the New Bremen/New Knoxville Rotary Club on Tuesday morning as electricians and plumbers continue to put the finishing touches on their new headquarters at 721 W. Monroe St.
A comment made last summer at a National Street Rod Association (NSRA) show in Lexington, Ky., brought the pair to New Bremen and they liked what they saw.
While talking with a fellow exhibitor about the need to move the business from its Carson City, Nev., site due to a freeway project, Pete Hagan mentioned the possibility of restoring an old brick building somewhere as a new headquarters. A bystander heard the remark and told the men about a town in Ohio where the owners of a company that produces Crown lift trucks had restored many of the downtown buildings for offices.
The brothers decided to visit New Bremen after the show, although they nearly had second thoughts after exiting Interstate 75 at state Route 274. They passed one cornfield after another until the sight of a new high school at the east edge of the community whetted their appetite to see more. They marveled at the restored downtown and then the industrial park. "We saw a for sale sign in front of a building that was roughly the size we had envisioned," Pete Hagan says. "After touring the building, the community and the Celina-St. Marys area, J.D. and I headed west. We looked at several places in Missouri and settled on New Bremen by the time we hit the far side of Kansas."
The brothers and more family returned to New Bremen several months later to check out the school system, available housing and churches in the area. That September visit sealed the deal.
"The pieces fell into place," Pete Hagan says as his brother nods in agreement. "Everything we needed and wanted was right here in New Bremen."
Village Administrator Wayne York called the Hagans' decision to join the community a "chamber of commerce dream."
"The arrival of Hagan Street Rods is notable since it is the first business to come from outside the area. All the other companies in the industrial park started locally and expanded," he says. "Everything is shovel ready for others looking to settle here."
The move from Carson City to the New Bremen building that once housed Miami and Erie Constructors and Selb's Nameplates began in January.
The business, which the Hagans founded in 1992, produces parts from hoods and side panels to door latches and flush mount lighting for the growing street rod market. The parts are marketed throughout the United States as well as Canada, New Zealand and Australia.
"We stockpiled a six-month inventory of parts to prepare for this move," Pete Hagan says. "It looks like full production should begin in July, although we have the ability to do some limited work now."
The brothers now face the task of assembling a crew of at least 10 employees. Their best sheet metal workers in Nevada -- men in their 60s and 70s -- chose not to pull up long-established roots and move eastward.
"If I can't find experienced craftsman, I'll train up new ones," Pete Hagan vows. "People tell me there is a good work ethic around here."
In addition to turning out parts, the owners plan to begin production of a prototype called the Coopster, a 1930s vintage vehicle that is half coupe/half roadster with a power top. Debuted at the Louisville show last summer, the vehicle is built to customer order. The $75,000 price tag did not scare away diehard street rod fans as they pulled out checkbooks.
"We initially considered building up to 200 Coopsters, but the number has been pulled back to no more than 20 per year," he says. "We want this work to be fun. Sure we could go out and hire 50 people, but mass production is not fun."
Pete Hagan, who restored his first car from the junkyard at age 15 and holds a degree in mechanical engineering, describes street rods as vehicles circa 1949 and older while custom cars are those from 1950 and newer.
"Street rods are reminiscent of the days when young men decided to take the hoods and fenders off their cars and go drag racing," he says. "Today's street rodders are rebuilding the cars of their youth."
Industry demographics pinpoint the average age of street rod enthusiasts as 50 to 65 years. They have reached a point in life where the mortgage is paid and the children are through college. Armed with the time, inclination and money, they eagerly pursue a hobby that is becoming a family affair. Roughly 90 percent of those attending NSRA shows bring along their spouse for what is considered a social event.
Plans are under way for a gala opening event at the company's new headquarters the last weekend in July, complete with a street rod show, barbecue, street dance and other activities.
"Hagan Street Rods has found a new home in New Bremen," Pete Hagan says. "And we're here to stay."