Compiled by Gary R. Rasberry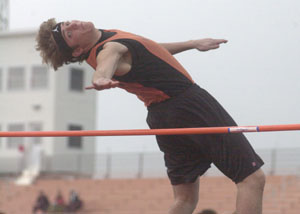 The Coldwater track and field team got their season started in a big way in winning a four-team event at Cavalier Stadium on a damp and chilly Tuesday.
The Coldwater boys won with 1491/2 points. Houston was a distant second with 501/2 with Lehman (36) and Loramie (24) following behind.
Devin Swartzel was the big winner for the Cavaliers, getting a hat trick of wins in individual events. Swartzel won the long jump with an effort of 18 feet, 41/2 inches, then took the 110-meter hurdles in a time of 16.44 seconds and wrapped his day with a win in the 300 hurdles with a time of 44.53. Teammate David Wilker also was a multi-winner, taking the 1,600 run in 4:47.65 and the 3,200 run in 10:30.
Also getting wins for the Cavaliers boys were Mario de la Rosa (400 dash), Andy Moorman (200 dash), Nick Eilerman (100 dash), Josh Pax (shot put) and Brian Brunswick (discus). Coldwater also won the 400, 800 and 3,200 relays.
The Lady Cavaliers won their portion of the meet with 144 points. Fort Loramie was second with 692/3 with Houston (221/3) and Lehman (20) rounding out the field.
Brittany Klenke swept the discus and shot put while Ashley Kanney took the 800 and 1,600 runs. Janelle Jansen won her specialty, the pole vault, and added a win in the long jump as well. Stephanie Wenning took the 200 and 400 dashes to round out the Cavaliers' multiple winners.
Also getting wins for Coldwater were Nicole Griesdorn in the 100 hurdles and Ashley Dues in the 3,200 run while the Cavaliers also swept all four relays.
Coldwater heads to Maria Stein on Thursday for a meet at Marion Local.

BASEBALL
Redskins win again
Ryan Hartke was nearly a one-man team on Tuesday.
The St. Henry junior scattered four hits and walked none and hit a three-run home run to help the Redskins beat Jackson Center 12-0 in five innings at the Wally Post Athletic Complex.
A night after Jackson Center pitcher Kevin Mann struck out 20 Fairlawn batters to open the season, the Tigers had a chance to be on the other end of the spectrum as Hartke struck out 10 in five innings to get the win.
The Redskins went to work on Trent Mann on Tuesday, plating six runs in the bottom of the first. St. Henry added one each in the second and third before scoring four in the fourth to set up the run-rule finish.
Hartke went 2-for-3 with a homer and plated four runs.
Mike Gast and Brent Kremer each went 3-for-3 while Andy Puthoff, Kyle Bruggeman and Tyler Post each had a double for the Redskins.
St. Henry hits the road for the first time on the season, traveling to K.C. Geiger Park to face the St. Marys Roughriders on Thursday.

LINESCORE
Jackson Center 000 00 -- 0 4 4
St. Henry 611 4X -- 12 15 0
WP -- Hartke
LP -- T. Mann
2B -- JC: Gehle. SH: Puthoff, Brugeman, Post
HR -- SH: Hartke
Records: Jackson Center 1-1, St. Henry 2-0.

Panthers go to 2-0
Trevor Krogman struck out eight in the first five innings to help Parkway go to 2-0 on the season with a 5-2 win over Spencerville at Don Black Field.
Krogman scattered three walks and two runs in the first five innings before turning the game over to Jensen Painter in the sixth. Painter struck out five along the way to get the save for the Panthers.
Jordan Heckler went 2-for-2 for Parkway while Jordan Thompson and Stevie Hays each had two RBI.
Parkway travels to Celina on Thursday for a Mercer County matchup.

LINESCORE
Spencerville 010 100 0 -- 2 7 2
Parkway 200 021 X -- 5 5 2
WP -- Krogman
LP -- Wichert
Sv -- Painter
2B -- S: Grigsby. P: Thompson, Heiser
Record: Parkway 2-0.

Indians win first game
Clint Tobe pitched six stellar innings as Fort Recovery beat Lincolnview 4-1 for the Indians' first win of the season.
Tobe allowed just one hit and two walks while striking out eight along the way to get the win. Kevin Schoenherr struck out all three batters he faced in the seventh to wrap up the game.
Tobe and Toby Metzger each had doubles to lead the Indians.

SOFTBALL
Flyers 2-0
Marion scored three runs in the fifth and two more in the sixth to rally and beat Lincolnview 5-3 in a game that was moved to Maria Stein from Middle Point. The Flyers improve to 2-0.
Melissa Otte got the win for the Flyers.
Lisa Siegrist went 3-for-3 for Marion Local while Kayla Evers and Ashlie Rutschilling added two hits each for the Flyers.
Marion hosts Wapakoneta on Thursday.

LINESCORE
Lincolnview 001 100 1 -- 3 8 3
Marion Local 000 032 X -- 5 11 3
WP -- Otte
LP -- Evans
2B -- L: Jones
3B -- L: Fries. ML: Droesch
Records: Lincolnview 0-1, Marion Local 2-0.

Redskins fall in Shelby County
St. Henry falls to 0-2 on the season after losing a lead to Fairlawn and then losing to the Jets, 10-5.
Amy Uhlenhake suffered the loss in relief of Karla Buschur after the Jets scored four times in the fifth inning to cap off a 5-3. The Jets scored two more runs in the sixth to ice the game.
Sarah Osterholt was 3-for-4 at the plate for the Redskins while Brenda Hemmelgarn and Rachel Schmackers each added two hits.
St. Henry opens the home schedule on Thursday when Shawnee comes to town.

LINESCORE
St. Henry 005 000 0 -- 5 8 3
Fairlawn 110 152 X -- 10 15 3
WP -- Trapp
LP -- Uhlenhake
2B -- F: Patrick (2), R. Cook, S. Cook, Steed.
Records: St. Henry 0-2.
Phone: (419)586-2371, Fax: (419)586-6271
All content copyright 2006
The Standard Printing Company
P.O. Box 140, Celina, OH 45822