By Janie Southard
jsouthard@dailystandard.com
ST. MARYS -- A couple dozen residents learned how the city's 2006 street program will affect their property and a few weren't happy about the sidewalks.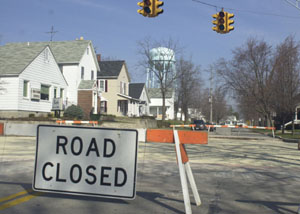 There was grumbling from several homeowners who questioned why there had to be sidewalks in front of their property when it isn't likely anyone would ever be walking in that area. Sidewalks are planned for Kishler Street, between Kensington and Oakview, and on Spring Street, between Wayne and Spruce.
Safety Service Director Mike Weadock explained that sometimes there's "no justification for improvement," but it happens anyway.
"Council has directed us to improve specific streets including curbs and sidewalks. We'll proceed with that until we are directed otherwise by council," he said, adding if the majority of residents on a particular street do not want the planned improvement, council members will consider those wishes.
Following the meeting Wednesday night, council members Jim Harris and Dennis Vossler agreed that if there is a majority, they would vote not to proceed with any repairs on that street. "We've had (streets where residents objected to the city's street program) in the past and those folks wanted us to come in and do just selected (improvements) from the program. That's not going to happen," Harris said.
Assessment for the 2006 program cannot be known until the individual streets are completed. The city expects the whole program to be completed by Oct. 15, depending as always on weather conditions during the summer.
Property owners have the option to install their own sidewalks, curbs and gutters. After getting a permit, the owner will have 30 days to complete the work.
As to the assessment, property owners also have an option: pay cash or pay on their tax duplicate in 10 equal payments over a five-year period beginning in February 2008.
"In past street projects, a lot of people have taken advantage of the opportunity to have some additional improvements made, like widening their driveway approach. It's at their own cost, of course, but still the contractor's right there anyway," Vossler said.
As to landscaping, the city will replace any trees that are lost in the right-of-way. Trees in the tree lawn (the area between the curb and sidewalk) also will be replaced and the owner may chose from 10 varieties. If the owner wants to do the planting himself, the city will pay up to $50 of the cost of the tree providing it is not an objectionable variety.
Phone: (419)586-2371, Fax: (419)586-6271
All content copyright 2006
The Standard Printing Company
P.O. Box 140, Celina, OH 45822