By Gary R. Rasberry
grasberry@dailystandard.com
The weather made the first-ever tennis match for the Celina boys tennis team on their new home court an enjoyable experience.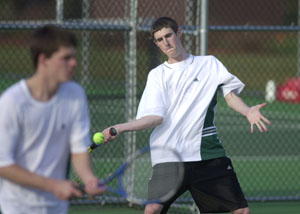 The NetDogs made the first one a successful one in beating Lehman 3-2 in the first match of the season for Celina after seeing their opener on Tuesday postponed due to weather. The match was the first one to be played at the new courts built at the high school.
The last match to finish up was the match that put the NetDogs over the top. The Celina first doubles team of Matt Stetler and Kyle Everman got off to a slow start against Cavalier pair Andy Gravunder and John Harrelson, losing 3-6. Things picked up in the second set as Stetler and Everman dropped just one game in winning 6-1 before shutting out the Lehman pair 6-0 in the third set to win the series.
"They settled down," said Celina coach Jan Morrison. "I (Continued from page 1B)
think we all had a little too much adrenaline going early on. Once we settled in and figured out who to play the opponent and just be slamming away, we settled in and played some smart tennis."
The second doubles team of Cory Darland and Alex Ball made it 2-0 for the doubles teams, beating Nathan Stevenson and Andrew McDonagh 7-6 (8-6 tiebreaker) and 6-2.
The singles experiend an up-and-down day. First singles player Brad Krick was down literaly after suffering cramps in his second set against Scott Ulrich. Krick was down on the court for several minutes as trainers rushed over to check on him. Although Krick got up and was able to move around, he still retired in the second set to give Ulrich a win.
"His opponent is a real good player," said Morrison of Krick, who was trailing in the match after losing the first set 5-7 to Ulrich. "He doesn't hit with top spin and Brad would have really preferred a kid that hit top spin. (Ulrich) gave him a lot of slices that just ran him all over the place."
Second singles player Neil Hoyng picked up his first win of the spring, beating Alex Dunson in two sets 6-2 and 6-3 to get Celina's third win of the match. Ethan Westgerdes had a tough match against Rob Harrelson, losing 3-6 and 1-6.
All and all on the day, Morrison was very pleased, not only in the win, but also the atmosphere in the first match on the high school courts.
"This was really a positive experience for all of us," said Morrison. "We had a good crowd of spectators out here and the guys just played really well. Lehman is a good team."
The NetDogs have their first Western Buckeye League match of the season today, making the trip north to Defiance.
Phone: (419)586-2371, Fax: (419)586-6271
All content copyright 2006
The Standard Printing Company
P.O. Box 140, Celina, OH 45822