By William Kincaid
wkincaid@dailystandard.com
NEW BREMEN -- Castles with drawbridges lowered over the moats filled the elementary gym, as sixth-graders dressed in traditional garb celebrated the first annual Medieval Fest on Wednesday.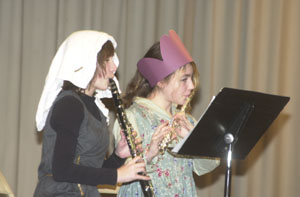 Each year social studies teacher Brigid Hegemier has her students make castles as they study the medieval time period. This year she decided to add a festival.
"The event was absolutely wonderful," Principal Karen Smith said. "She took the information they studied in class and applied it to a very normal setting. The students dressed up in authentic medieval costumes. They sang songs from the times ... it gave them an opportunity to apply all the information they learned."
At 10:30 a.m., the festival started as various groups of students performed medieval songs. Hegemier, dressed in a pink and black jester outfit, led many of the songs, including "What Shall We do With the Drunken Sailor?" with her acoustic guitar.
All of the students' castles also were on exhibit. Groups of four to five students worked on the project for nearly three weeks to create castles with specific requirements, such as a drawbridge, moat, stable and keep. Although the students had to follow some guidelines, Hegemier said the students were permitted to be creative, as they could choose either a round or square castle and incorporate weaponry. Awards were later distributed for most authentic, most detailed and most creative.
"It's really a fun project," Hegemier said.
Students also created an illustrated family coat of arms. Each member of a student's family was represented with two or three items that symbolized their interest and hobbies.
And before eating a medieval feast of roast beef, pudding, fruits and vegetables, spinach pie, sugared lemons, bread and pastries, the students listened to guest Dianne Dicke, a retired teacher, play a hammered dulcimer.
The hammered dulcimer, according to Dicke, is a stringed medieval instrument with a Latin etymology meaning sweet sound. Dicke said the dulcimer is thousands of years old and even made an appearance in the Book of Daniel in the Bible.
Dicke played a handful of songs including the "Race of Mallow" and "Dancing Bear," which she told students to imagine a bear trying to dance while listening to the song.
After lunch the children played medieval games. At the conclusion of the day, students also were awarded for best costumes.
"They had a great time," Hegemier said. "As we were leaving, they were hugging us for the day. They were thrilled."
Hegemier said she hopes to make the festival an annual event.
Phone: (419)586-2371, Fax: (419)586-6271
All content copyright 2006
The Standard Printing Company
P.O. Box 140, Celina, OH 45822