By Gary R. Rasberry
grasberry@dailystandard.com
MINSTER -- When asked if he thought his team struggled against Wapakoneta pitcher Brian Garman, Minster coach Mike Wiss said a lot of teams have struggled when the Redskins' ace was on the mound.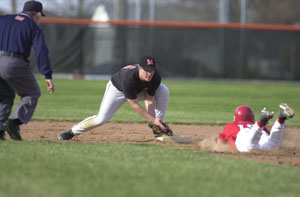 Garman, coming off a 15-strikeout game against St. Henry on Saturday, struck out 16 Wildcat batters as the Redskins posted a 7-0 shutout in a rescheduled game Wednesday at Hanover Street Park.
Wapak improves to 4-1 overall while the loss was the first of the season in three games for Minster.
Minster trailed 3-0 after the second inning and then saw a chance to get out of the fifth inning slip away without giving up any runs. Wildcats catcher Andrew Baumer missed a throw to first to complete a strikeout for the third out of the inning and the Redskins capitalized.
With Garman on base on the missed strike three, Caleb Vorhees followed with a single and B.J. Reed reached when Wildcats third baseman Dan Mueller made an error, leaving the bases loaded for Nate Quellhorst. Quellhorst took Jimmy Stechschulte's first pitch to rightfield, clearing the bases and racing into third with a triple. "It was big for us because they would have been out of the inning easy," said Wapak coach Jason Brandt. "A dropped third strike gets through, we load the bases and get a clutch three-run triple from Nathan. We seem to come true with guys on base."
Garman didn't need any insurance runs, though, as he was cruising along.
The start of the game, though, looked like Minster would have a chance to bust through against Garman. Mueller led off with a walk and Aaron Heitbrink followed with a single. The two were successful with stolen bases to put themselves in scoring position, but Garman struck out three in a row -- all by called third strikes -- to get out of the jam.
From there, Garman was in control, walking none the rest of the way and scattering three hits. After throwing 113 pitches in 5 1/3 innings on Saturday in a 15-strikeout win over St. Henry, Garman threw 100 pitches -- 69 for strikes -- against Minster.
"Truthfully, before the game, we thought we were going to throw 3-4 pitchers, honestly, to get some guys some work in," said Brandt. "We don't play until Saturday and it was our only game this week. We had him on a pitch count and he stayed right around where we wanted it. He wanted to finish it and I wasn't going to take him out if he wants to finish it. He needs to get that stamina built up.
"On a nice day like today, no," said Brandt about concerns on bringing Garman back on three days rest. "If it had been cold, we would have shut him down after 50-60 pitches. Brian's a competitor. I want him to have the ball every four days. It helps get his arm strength built up."
"A lot of people struggle with Garman," said Wiss. "His third start of the year. He goes six-plus every time out."
Wiss was not happy with the late-game demeanor of his team at the plate as Garman racked up strikeout after strikeout.
"We made a few mistakes that got in a bad spot down 7-0," said Wiss, "But, also, you want your attitude in the at-bat to become better and not become lax. I think there were some at-bats towards the end of the game where we had already struck out 12 times in the game, now 'Well, what's it going to be when I get up there?' That attitude, that sense of negativity that 'I'm not going to be successful.' comes into their heads. We didn't approach a few at-bats too well. I'm not saying those at-bats would have made a difference in the game."
Wiss did have praise for Baumer, his sophomore catcher. After the throwing error that kept the fifth alive for Wapak, Baumer came up with a double and a deep fly to left in his next two times at the plate. Baumer also threw out the only two steal attempts by Wapak.
"I was impressed after Andrew didn't make that chest-to-chest throw to first base, he hit the two hardest balls we hit all day," said Wiss. "He followed the error with going to the wall and a lineout to left, two of the hardest hit balls. I was impressed with that. You like to see that from a sophomore."
Minster returns to action on Friday at Jackson Center before traveling to Fort Loramie on Saturday for an afternoon doubleheader.