ST. HENRY -- Following four different lead changes, St. Marys delivered the decisive blow against St. Henry in the top of the seventh inning to cap off a come-from-behind 5-4 victory at the Wally Post Athletic Complex on Thursday.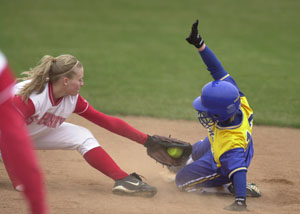 The win evens the Roughriders' record at 2-2 on the young season, while the Redskins still thirst for their first win while dropping to 0-5 overall.
"The bad luck just seems to find us wherever we go," said Link matter-of-factly following the loss. "Our record doesn't show it, but I'm seeing improvements from game to game. We had solid pitching tonight and we hit the ball well, we just had a few costly errors and walks and they came back to haunt us. The season is young and I still feel we'll be able to sneak up on some teams."
The Roughriders got things rolling in the second inning when Heather Ruffner reached base with a double and later scored after a St. Henry throwing error.
Trailing 1-0, the Redskins rallied in the bottom of the third frame, beginning with Bethany Puthoff reaching first base on a Roughrider error. She advanced to second base on a fielder's choice and scored on an RBI from senior Erica Wilker. Wilker moved on to second base following the attempt to nail Puthoff at home plate and scored a few moments later when junior Sarah Osterholt knocked her home with a double. The score remained in favor of the Redskins at 2-1 until St. Marys knotted things up in the sixth inning. Leslie Karner led off and was hit by an offering from St. Henry starting pitcher Amy Uhlenhake. She immediately stole second base and tied the game a couple of batters later when another St. Henry throwing error gave her the opportunity to score.
Unshaken, the Redskins went back on the offensive and scored a pair of runs in the bottom of the inning to pull ahead 4-2. With one out, Janel Bruns walked and was pushed home with a double by Lindsay Kahlig. Mara Rindler was inserted to pinch run for Kahlig and she eventually made her way home after an attempt to throw Amy Uhlenhake out at first base was off the mark.
"We made a few mental mistakes tonight and we got frustrated with ourselves at times, but I'm very proud of the way the girls didn't give up," remarked Grothause. "We're still an inexperienced bunch out there, but we need to take it one inning at a time and I felt we were able to do that tonight."
Faced with a two-run deficit, the Roughriders came back in dramatic fashion when Bailey Enderud reached base with a one-out single. Ruffner followed with a walk, leaving Bailey Smith a pair of runners on the base-paths with one out.
Smith delivered big-time as her shot to rightfield cleared everyone's head. She was waved home as she sprinted around third base and slid in safely for the home run.
"I took a risk sending her home, but the score was already tied and it would have had to have been a perfect throw from the outfield to get her out," said Grothause. "Luckily our timing was good and Bailey ran well and we were able to go ahead for good."
The Redskins managed to get a baserunner in the bottom of the seventh, but they were never able to get her home and fell by the one-run final.
The Roughriders are back in action on Saturday when they travel to Minster for a doubleheader beginning at 1 p.m. The contest was originally slated for noon, however it has been pushed back an hour due to SAT tests.
The Redskins will try to pick up their first victory in a twin-bill on Saturday as well against the Greenville Green Wave, one of the strongest softball teams in western Ohio.
Phone: (419)586-2371, Fax: (419)586-6271
All content copyright 2006
The Standard Printing Company
P.O. Box 140, Celina, OH 45822