By Margie Wuebker
mwuebker@dailystandard.com
Hitting the accelerator in-stead of the brake led to a Monday afternoon crash that sent glass flying as a pickup truck struck the front of a building known as The Marketplace on West Market Street in Celina.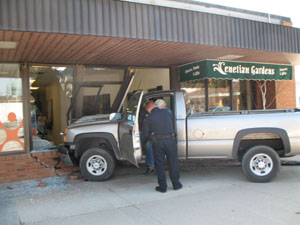 Robert W. Holscher, 79, 14359 Mendenhall Road, Yorkshire, attempted to back from a parking place in front of the building when he noticed approaching traffic. He pulled back into the space but hit the accelerator instead of the brake, according to Celina Police Department reports.
His 1993 Chevy pickup truck crashed through the front doors leaving black tire tracks and shattered glass on the sidewalk. People milled about sharing their view of what transpired.
Amy Harner, office manager at Northwest Regional Systems, 210 W. Market St., had turned from her desk at the front building just before the 2:34 p.m. crash.
"We heard the noise and commotion before we saw the dust and fumes," Harner told The Daily Standard. She immediately thought of an older couple who had left the office moments before and was relieved when neither they nor the driver were injured.
"We're certainly counting our blessings," Harner added. "Thankfully no one was hurt."
The office is located off the hallway where the pickup truck hit. A little to the east or the west would have put the truck in Northwest Regional Systems or adjacent Venetian Gardens.
Florist shop employees Lori Buening and Kathy Sovinski were working in a back room when the crash occurred.
"I heard the loud noise and felt the building shake," Buening said. "I immediately thought of a tornado and then noticed smoke and fumes."
Holscher shook his head in disbelief while talking with Patrolman John Barker. After receiving a citation for failure to control, he carried flats of fruit cocktail and corn from the cab to the tail gate. Even bagged Easter candy, he also purchased earlier, escaped damage.
The building, which sustained exterior brick damage, is owned by Ken Hole of St. Marys.
The truck was towed from the scene, and Holscher reportedly waited at the police station for a ride to his Darke County home.
Phone: (419)586-2371, Fax: (419)586-6271
All content copyright 2006
The Standard Printing Company
P.O. Box 140, Celina, OH 45822