MINSTER -- The Parkway Panthers made sure they started the Midwest Athletic Conference season off on the right foot, as Mark Esselstein's crew took advantage of two huge offensive innings to post a 10-1 victory over the Minster Wildcats at Four Seasons Park.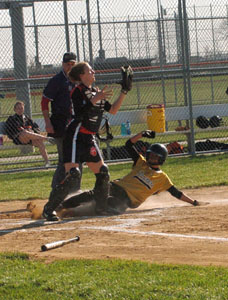 "The MAC is just so balanced again this season and if you don't play well in just one game, you're in trouble," explained Esselstein. "We had a couple of big innings where we did some things well and it was able to take the pressure off for the rest of the game."
After being retired in order by the Wildcat defense in the first inning, the Panthers' first eruption occurred in the top of the second frame when they crossed home plate seven times on six hits. Everyone in the Parkway lineup batted once, including Jayme Marbaugh who recorded two hits in the inning, as well as scoring a run and driving in a run.
Minster began its half of the second inning with a dribbler by Thea Rosengarten, which she beat out for a hit. She scored a few moments later when her sister, Abby, belted a double.
For the next three innings, Wildcat starting pitcher Angie Seger found her groove and limited the visitors to just a pair of meaningless hits -- both in the third inning. Unfortunately for Minster however, Parkway's Tiffany Steinbrunner was just as tough on the hill during that span, limiting the home team to just a single. "It's good to have those explosive innings, but we also need to get more consistent with every at-bat and spread things out a little bit more throughout the game," commented Esselstein. "That's something we need to work on to get better at, and I feel once we play a few more games, it will come."
The top of the sixth inning is where the Panthers put the game out of reach with three runs on three hits. Two of their scores were aided by Wildcat errors as Parkway pushed ahead 10-1.
"On paper it definitely looks a lot worse for us than it was," said Minster coach Michelle Pleiman. "They scored everything in just two innings and a lot of runs with two outs. Despite that, I feel we did some good things today. We made good contact with the ball and we were aggressive on the bases. We also had some nice defensive plays, unfortunately, we were playing against a very good team, and we can't make some of the mistakes we made against a team like Parkway."
The Panthers were led at the plate by Marbaugh and Elisha Schumm, who each picked up three hits. Marbaugh and Ashley Gamble each knocked in three runs in the victory, as well.
On the mound, Steinbrunner picked up the complete game and allowed just five hits while striking out eight and walking none.
Thea Rosengarten led Minster with two hits and she also scored the lone Wildcat run in the contest. Seger pitched the complete game as well, and she walked just one batter in seven innings.
Parkway (5-1, 1-0) is scheduled to be back in action Monday when they face the Lima Shawnee Indians, while Minster will take to the road this afternoon facing the Anna Rockets.
Phone: (419)586-2371, Fax: (419)586-6271
All content copyright 2006
The Standard Printing Company
P.O. Box 140, Celina, OH 45822