By Ryan Hines
rhines@dailystandard.com
ST. MARYS -- Megan Sutter played the role of hero on Tuesday to help keep the Celina softball team perfect on the season.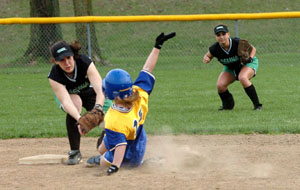 Sutter drove home the only run of the game with a two-out RBI single in the top of the eighth inning to lead the Bulldogs to a 1-0 victory over rival St. Marys in the Western Buckeye League opener for both teams.
"Megan is definitely the type of player that we want up at the plate in those situations because we know that she'll be focused on what needs to be done at that time," said Celina head coach Nicole Driggs. "She kept focused and had the game-winning hit for us."
"These are the type of games that we should expect to see in the WBL this year," said St. Marys head coach Sue Grothause. "It was a great game, I just wish that we could have been on the other end of it."
The game-winning hit by Sutter should have never happened if not for a baserunning blunder by Celina's Amy Harner. With the score tied at 0-0, Harner led off the eighth inning by connecting for a deep drive to right-centerfield for her second triple of the game.
After a Melanie Heyne pop out on the infield kept Harner at third, Allison Braun lifted a deep fly ball to centerfield which should have easily scored the speedy Harner from third. However, Harner took off for home on contact and then didn't recover in time to make an attempt at tagging up for the go-ahead run.
Then with the second out recorded, Sutter stepped to the plate and and ripped a line drive just inside third base in fair territory allowing Harner to trot home for the only run of the game.
"Amy is a very emotional player for us and I think that she had it in her head that she wanted to score and she lost herself in the situation for an instant," said Driggs. "This is something that all of us can learn from. It happened, but I'm glad that we had a chance to make up for it."
"I wasn't thinking about anything other than doing my job and getting that run home from third," said Sutter. "This is a team game and we played as a team and won as a team today."
The one run was enough for Heyne as the Bulldogs' ace hurler pitched all eight innings for Celina allowing just four hits while striking out 17 and walking none.
"It feels good to get this win because it was a great game and a close game," said Heyne.
"I thought that Melanie has gotten better because her off-speed pitches have gotten better," said Grothause. "She kept us off-balance all game long and we didn't make enough contact. Offense has been our weakness all season long and it was again tonight."
Although Celina scored just the one run, the Bulldogs did connect for eight hits and had a baserunner on in each inning but was unable to score on St. Marys hurler Rachel Ginter, who was the hardluck loser.
Celina (7-0) is back in action again on Thursday hosting Van Wert for another WBL encounter while St. Marys will be off until Monday when the Roughriders will host Lima Senior.
Phone: (419)586-2371, Fax: (419)586-6271
All content copyright 2006
The Standard Printing Company
P.O. Box 140, Celina, OH 45822