By Gary R. Rasberry
grasberry@dailystandard.com
It was another tough day for Celina on the baseball diamond.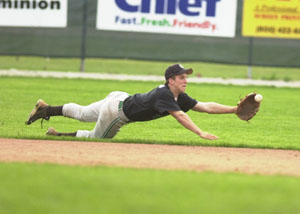 Already playing without one of its best hitters and relief pitchers, the Bulldogs faced off with cross-lake rival St. Marys to open the Western Buckeye League season.
Roughrider hurler Korey Hullinger shut down the Bulldogs for 61/3 innings, scattering four hits to give St. Marys an 8-2 win at Eastview Park on Tuesday.
The Roughriders improve to 6-3 on the season as Celina drops to 2-7 overall.
With third baseman/pitcher Eric Braun out after getting spiked in practice on Monday, requiring stitches, Celina's bats were held to just five hits on the day by southpaw Hullinger and reliever Phil Langsdon, who came in the seventh to get the final two outs. "It doesn't matter if it's a lefty or a righty, right now we're not hitting the ball extremely well," said Celina coach Bruce Boley. "We're not getting good at-bats, so to speak. You have to credit their pitcher, he moved the ball around and threw strikes.
"We haven't done a good job offensively of being tough outs -- really hitting it hard on the barrel and making the other team make some plays."
Celina went with its ace Scott Luthman, who was introduced to the Roughrider offensive right off the bat when Brett Baker doubled on the second pitch of the first inning. Doug Burke followed with a walk before Aaron Pfeffenberger brought in the first run with a single scoring Baker.
St. Marys scored single runs in the second and third and plated two more in the fourth. In the sixth, St. Marys was finally able to chase Luthman when Baker singled, Burke walked and Pfeffenberger doubled home Baker to make it 6-1 in favor of the Roughriders. Luthman was able to strike out Kyle Cheslock before giving up a single to Bo Frye making it 7-1. Langsdon, who came in to replace the injured Justin Bruns, singled to make it 8-1.
Boley then went out and switched Luthman with shortstop Eric Loughridge. Lough-ridge promptly got Victor Long to ground to Luthman, who stepped on second and threw to first for a double play.
Luthman allowed 13 hits in 51/3 innings, walking two and striking out six.
"We didn't make plays," said Boley. "Looking back, I know of three plays that would have saved us three runs. You can't do that against anyone in this area, especially in a league game."
Hullinger remained in control through the game, walking just one batter -- that coming in the seventh inning -- and hitting another while his defense came up with big plays throughout. The biggest play came in the fifth when John Bonvillian lofted a deep fly to center. Mitch Dunlap followed the ball to the warning track and made a big diving catch for the second out in the inning.
"He did a nice job," said Roughrider coach Fred Hullinger of his nephew Korey. "He doesn't throw that hard. His curveball didn't work real great, but he was able to hit spots today, which was huge."
Hullinger finally started losing some steam in the seventh. Kevin Kramer led off with a walk and after Andy Sell popped out, Joe Clouse doubled to put two runners on. Coach Hullinger called on Langsdon from leftfield in relief but after recording an out, Bonvillian singled home Kramer to make it an 8-2 final.
Baker paced the Roughriders with a 3-for-5 day with three runs scored while Pfeffenberger went 2-for-4 with two RBI. Dunlap and Bo Frye also went 2-for-4 with Cheslock getting two RBI.
"The kids were very patient," said coach Hullinger. "Even when they were down 0-2 or 1-2, they managed to battle off some big pitches and find a way to get a base hit."
St. Marys is off until Saturday when the Roughriders are at Ayersville for a twinbill while Celina returns to WBL action on Thursday at Van Wert.
Phone: (419)586-2371, Fax: (419)586-6271
All content copyright 2006
The Standard Printing Company
P.O. Box 140, Celina, OH 45822