On what was undoubtedly the most gorgeous evening of the track and field season thus far, the Celina Bulldogs played host to the Van Wert Cougars in a dual track meet at the High School Track.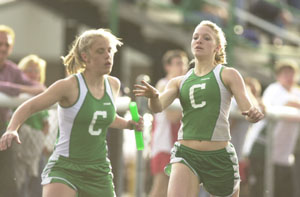 When all was said and done, Dan Otten's teams captured first place on both the boys and girls side against their league rivals.
The Bulldog girls dominated in all aspects, as they upended the Cougars by a final of 99-33, while the boys had a little bit tighter of an evening, but still won by a comfortable margin, 82-55.
"It was nice to get out here for a small dual meet like this, and anytime we're able to sweep a team like Van Wert, it makes it even better," explained Otten. "For both the boys and girls, we put some people in some different places and we put a few in only a couple of events, so it worked out well for us. We had a meet the other night and a big one coming up on Saturday, so we wanted to try some different things tonight, and I was pleased with the way it turned out."
The Bulldog boys were led by standout Eric Chapin, as he took top honors in the high jump (6-2), 110-meter hurdles (15.7), and 300-meter hurdles (42.92). Jeremy Buening was Celina's other multiple-winner with a pair of victories in the shot put and discus. Buening tossed for 43-10 in the shot put, while hitting 127-9 in the discus.
The Bulldogs split the relays by winning the 4x200-meter with a time of 1:37.89 and the 4x400-meter event in 3:38.59.
"Van Wert has some nice athletes and I was pleased with the way we were able to match up," said Otten. "We have a great group of seniors who love track and field, and tonight it was nice to give them a taste of victory. We had a lot of kids make improvements on their personal bests for the season and that's always great to see."
On the girl's front, senior Jenna Schmitmeyer continued her fine start to the spring season as she won three different events. Schmitmeyer won the 100-meter hurdles with a time of 16.63, as well as the 300-hurdles in 47.11 seconds. She added to her collection of victories a first-place finish in the 100-meter dash in a time of 13.04 seconds.
"Jenna is a senior this year and she was a little beat up last season, so it's nice to see her coming on," remarked Otten. "She is our leader and it was pleasing to see her do so well. Actually, overall for the girls, we did well and hopefully it's something we can build on."
Other multiple winners for the Green and White were Amanda Smith in the 800- and 1600-meter runs, and Eryn Langenkamp in the high jump and the long jump. Smith won her events in times of 2:39.34 in the 800 and 5:49.14 in the 1600-meter run, while Langenkamp reached 4-8 in the high jump and recorded a long jump of 15-5 1/4.
The Lady Bulldogs won all other events in the meet except for the shot put and 200-meter dash, however they were runners-up in both of those events to help with their domination.
Celina travels to Hamler on Saturday for the Patrick Henry Invitational.
Phone: (419)586-2371, Fax: (419)586-6271
All content copyright 2006
The Standard Printing Company
P.O. Box 140, Celina, OH 45822