By Ryan Hines
rhines@dailystandard.com
Poor Van Wert defense and aggressive running on the base-paths cleared the way for the eighth straight win to start the season for the Celina softball team.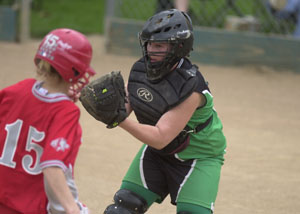 The Bulldogs overcame a 1-0 deficit with nine straight runs in the next three innings to improve to 8-0 with a 9-1 win over Van Wert at Bill Feth Diamond on Thursday.
"I thought that we played well for four innings, but their aggressive baserunning and our inability to make plays defensively at crucial times cost us," said Van Wert head coach Tom Mosier. "Once they got on us, we backed off and got down and they just gained momentum."
Celina is also now 2-0 in the WBL while Van Wert falls to 6-7 overall and 0-2 in league play.
The scoreless tie broke in the third inning when Van Wert had the bases loaded with no outs. Celina starter Laura Homan was pulled after 3-plus innings of work and Bulldogs ace Melanie Heyne came on to pitch. Heyne struck out the first batter that she faced but then a looping line drive off the bat of Van Wert's Stephanie Swander fell in front of a diving Allison Braun at shortstop giving Van Wert a 1-0 advantage as Jessica McClellan scored on the play. Heyne retired the next two batters to get out of the bases-loaded jam with just one run allowed.
"I think that Laura could have gotten through that situation too, but we wanted to get both of our pitchers some time on the mound because we have a little of a break before we play again," said Celina head coach Nicole Driggs. "We were going to go with Laura for four and with Mel for three, but we just brought her in an inning earlier than we were going to.
"Mel was all warmed up and she was ready to go, so we brought her in and she did a great job in that situation. We all want no runs to score for the opponents, but it was a great job to get out of that situation with just one run given up with the bases loaded and no outs," added Driggs.
"I was happy that we didn't see the Heyne girl to start the game, but we figured that we would see her at some point," said Mosier. "We got a run with her on the mound, but she's just an excellent pitcher."
The one-run deficit seemed to spark an unusually quiet Celina offense as the Bulldogs responded with a pair of runs in the bottom of the fourth frame.
Heyne led off with a double and scored on back-to-back fielder's choices, the second of which came from Katie Williams for an RBI to tie the game at 1-1. Megan Sutter, who reached on a walk, was pinch run for by Rachael Flemming and she scored on an error by the pitcher on Williams' fielder's choice for a 2-1 Celina lead.
Celina added three more unearned runs in the fifth inning helped out by two more Van Wert errors.
Kelsey Moorman lined a pitch off Van Wert pitcher Alysha Scheidt for a single to lead off the inning advanced to second on a fielder's choice and reached third base on a single by Eryn Piper. What should have been a meaningless ground ball by Amy Harner turned into three runs for Celina when the Cougars threw the ball around the field, committing two errors, allowing Harner to clear the bases and score.
"We always want to be aggressive on the bases and I think that it forced them into a few of their errors tonight," said Driggs. "We pushed them to make plays and sometimes it worked and sometimes it didn't, but we want to continue to be aggressive on the bases."
Celina then put the game away in the sixth inning by adding four runs off of four hits and two more Van Wert errors.
"We've been averaging about five errors a game this year, so I guess that our six errors today is just the usual for us," said Mosier. "Celina did a good job of being aggressive on the bases and we didn't handle it very well."
While Celina started to tack on the runs, Heyne settled in on the mound allowing no runs and just one hit while striking out five in the final four innings to get the win in relief.
Heyne and Sutter each had two-hit games for Celina and each of them added a double. McClellan was the lone multiple-hit player for Van Wert with a pair of singles.
Celina is back in action again Tuesday hosting Shawnee in a WBL encounter.
Phone: (419)586-2371, Fax: (419)586-6271
All content copyright 2006
The Standard Printing Company
P.O. Box 140, Celina, OH 45822