By Laura Walker
lwalker@dailystandard.com
'Tis the season for green grass and the inevitable cleanup of accumulated roadside litter.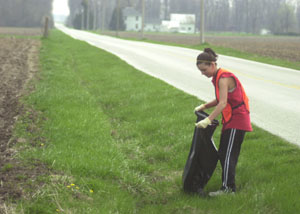 Volunteers sporting orange vests and rubber gloves have been seen walking along side county roads, filling up garbage bags.
The county pays $20 per mile of county road cleaned up by a volunteer organization, a raise from $18 in 2005. This is funded through the engineer's office from a small portion of the gas tax and licenser funds they receive.
The total spent to clean the 398 miles of county roads varies from year to year. In 2005, about 276 miles were cleaned for a cost of $4,981.09.
In speaking with township officials from Mercer County, most townships compensate per mile, for a donation of about $500 for one day worth of work. Hopewell Township matches the amount the county compensates, paying about $750 per roadside cleanup, Trustee Terry Canary says. Townships also can use the dumpster service provided by the Mercer County Solid Waste District. The solid waste district also provides rubber gloves and garbage bags and covers the dumpster and tipping fees to the landfill for the litter collected. In 2005, a grant to the county covered the $2,900 cost of this service for the entire county.
Penalties for littering by Ohio law can be up to a $500 fine and 60 days in jail.
According to the Ohio Department of Natural Resources Web site, litter doesn't just appear, it's a result of careless attitudes and waste handling. State officials say people litter because they believe someone else will pick up after them and it is convenient.
"Litter is a costly problem that we all end up paying for to clean up Ohio's highways, parks and waterways," the Web site says.
Phone: (419)586-2371, Fax: (419)586-6271
All content copyright 2006
The Standard Printing Company
P.O. Box 140, Celina, OH 45822