By Ryan Hines
rhines@dailystandard.com
COLDWATER -- A quick glance at the box score tells more than enough as to who won the Mercer County battle between Coldwater and Celina on Monday at Veterans Field.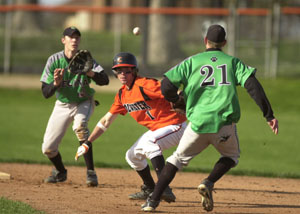 The Cavaliers (8-4) took advantage of seven Celina errors and four passed balls while also connecting for 11 hits in an 8-2 victory over the Bulldogs.
"We teach our guys to put the ball in play and hustle on the bases, but Celina just had a bad day in the field today," said Coldwater head coach Brian Harlamert. "Celina had seven errors and we had 11 hits so we had a lot of runners on base today."
Celina, on the other hand, had just five hits and stranded nine runners on base while dropping to 2-9 on the spring.
"We have to start playing the game with some confidence on offense and defense," said Celina head coach Bruce Boley, who is in his 25th year at the helm of the Bulldogs' baseball program. "Until we can get more hits than errors (Celina had five hits and seven errors) we're going to struggle. Mentally, I didn't think that the kids were ready to make some of those plays out there. We have to make routine plays and there were times where we didn't make routine plays and you aren't going to win games doing that. "There are innings where we look good and then there are other innings where we looked like we did tonight," added Boley. "It's gut-check time for these guys because we have a lot of big games ahead."
Troy Siefring and Brady Geier continued their sweet strokes with 3-for-3 days at the plate as the only multi-hit players for the Cavaliers. Siefring was playing his first game back at second base after seeing time at designated hitter and third base in the previous nine contests.
"With Troy and Brady at the top of the lineup hitting like they are hitting right now, that makes us a much better offensive team," said Harlamert. "Now that we have Troy back at second base, we can put Sam (Slavik) and Tyler (James) back at third base where they feel much more comfortable defensively. It stabilizes our defense having Troy back at second base and that will be big for us."
Coldwater scored one in the first and three in the third to blow the game open until adding one in the fourth and a pair of insurance runs in the sixth.
Cody Muhlenkamp had an RBI single in the first to get the Cavaliers on the scoreboard but it was the third inning that tanked the Bulldogs. Celina committed four errors in the third inning for three unearned runs.
Riley Muhlenkamp had an RBI groundout in the fourth frame for the Cavaliers before Coldwater two more unearned runs on one error and two passed balls in the sixth inning.
The eight runs were more than enough for Coldwater hurler Adam Timmerman as the righthander threw the first five innings allowing just one run on four hits with five strikeouts.
Harlamert was happy to see his senior come back strong after a tough weekend.
"He had a tough weekend with walking in the winning run on Saturday, but he came back for us today throwing five strong innings," said Harlamert. "He threw strikes and let our defense make the plays behind him."
Ryan Geier came on for the final two frames allowing one unearned run on one hit with a strikeout, three walks and two hit batsmen. Celina was hit five times in the game.
Coldwater is back in action again today for a critical showdown against Versailles in a matchup of two teams with Midwest Athletic Conference title expectations. Celina travels to Shawnee in a Western Buckeye League confrontation.
Phone: (419)586-2371, Fax: (419)586-6271
All content copyright 2006
The Standard Printing Company
P.O. Box 140, Celina, OH 45822