COLDWATER -- Monday night was a memorable evening for Coldwater softball coach Jack Mescher.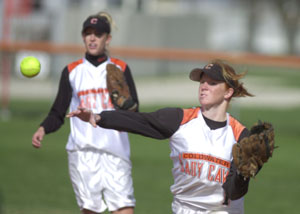 Mescher recorded his 100th win of his coaching career as his girls posted a dramatic 2-1 eight-inning win over the Versailles Tigers at Memorial Park in a Midwest Athletic Conference matchup.
With the score tied at 1-1 in the bottom of the eighth and two outs, Tasha Stucke doubled to right-centerfield, stole third and scored the game-winner when Amber Heyne's groundball was misplayed by Versailles shortstop Karen Smith.
Scoring chances were at a premium as the late Cavalier rally put an end to a great pitchers duel between Versailles freshman Mackenzie Mayer and Heyne, the Cavaliers' senior hurler.
Heyne allowed just one run and three hits over eight innings, walking one and striking out nine. Mayer allowed just two runs, one earned, over 7 2/3 innings, striking out eight and walking one.
"That was a stellar pitching performance by both pitchers tonight," said Jack Mescher. "The chances to score were few and far between tonight so that's why we stole Tasha (Stucke) when we did there in the eighth. I thought we were going to have to make something happen because I didn't think that we would get too many more scoring chances like that one, so I thought it was a good spot to make it happen."
"There were two great pitchers out there tonight," said Versailles coach Ron Mescher. "Both pitchers had great stuff and they both threw well."
Versailles scored the game's first run in the opening inning as Megan Shardo reached on an error, moved to second on a sacrifice by Chelsea Mayer and scored on a single by Lynette Stauffer. The Tigers had a chance to score more runs in the inning as Danielle Stucke walked with two outs, putting two runners on but Melissa Heft struck out to end the inning.
The scoring chance in the first was the only real chance Versailles had against Heyne as she retired 21 of the final 23 Tiger batters she faced. The only Versailles runners to reach base following the first inning were Shardo, who reached on a lead-off single in the sixth and was erased on a stolen base attempt and Stauffer who reached on a two-out single later in the sixth but was left stranded.
"We did not have a whole lot of scoring chances today because we did not hit the ball," said Ron Mescher. "We did not create anything offensively. For the most part, we didn't make them play ball except for a couple of nice plays that they made in the seventh. "
Coldwater had a chance to tie the game in the bottom of the first, when Brooke Gross and Stucke singled with two outs, but Heyne struck out and Tiffany Uhlenhake grounded out to end the threat.
The Cavaliers did tie the game in the fourth when Stucke led off with a triple and scored on a Heyne sacrifice fly.
Coldwater had scoring chances in the sixth and seventh but came up empty. In the sixth, Stucke walked and stole second, went to third on a Versailles error but she was picked off by Versailles catcher Lynette Stauffer after a missed bunt try by Jen Bruns.
In the seventh, Beth Giere singled with one out, moved up on a sacrifice but was stranded when Dianne Schwieterman bounced out.
"It looked like it was going to be one of those games where we would have to manufacture a run or two and that is why we took some extra chances on the bases tonight," said Jack Mescher. "We pulled out all the stops tonight, whatever it took."
Coldwater is back in action tonight as it plays host to Fort Loramie while Versailles is also in action tonight playing host to Ansonia.
Phone: (419)586-2371, Fax: (419)586-6271
All content copyright 2006
The Standard Printing Company
P.O. Box 140, Celina, OH 45822