By William Kincaid
wkincaid@dailystandard.com
FORT RECOVERY -- High school Principal Ed Snyder will retire from Fort Recovery on Aug. 1 after serving nearly 31 years as both a teacher and administrator at three local schools.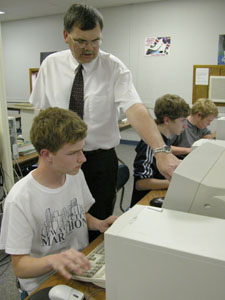 Although Snyder will be leaving the school system, don't expect to see him taking it easy or moving to Florida.
"Education is still my first love," he told The Daily Standard in a recent interview. "I'm kind of a Fort Recovery guy. I just love living in a small town ... I have a lot of roots here."
Snyder says he still thinks he is employable in some form of the educational arena. Prior to serving at Fort Recovery, he was an English teacher at Parkway and athletic director at Minster.
"It's been exciting to make those kinds of moves," he said. After Snyder left Minster to become high school principal of Fort Recovery in September 1991, he said he became a leader in a school district that was on the cutting edge of curriculum and academic opportunities.
One of the primary issues addressed during Snyder's tenure was the creation and preservation of a favorable social and emotional climate within the school.
"We want the kids to feel good about being in school," he said.
And to complement that environment, Synder said the board of education, administration and teachers devoted a significant amount of time and money to the development of clubs and organizations, such as FFA and the music program.
Snyder said that if an incoming freshman -- who may not be academically inclined to achieve -- can get excited about and enjoy a program, the school will have a better chance of directing his or her educational career.
Fort Recovery's academic achievement -- having received the top rating on the state report card in the last six years -- is something else Synder is proud to be a part of.
"I hope I've played a small part in those banners (Ohio Excellent School)," he said. "I've had almost 1,000 students graduate ... it's a testament to the supportive community."
Since 1991, according to Snyder, fewer than 10 students failed to graduate from Fort Recovery High School.
Snyder also said he has seen significant changes in both technology and curriculum throughout the years. The board of education has supported technology and computers thoroughly, he says.
"Continuing to do so is key to having the students be able to compete in a technological world," Snyder said.
Snyder said he will miss the relationships he has had with his students and staff in addition to the challenges that he had to confront on a daily basis.
However, he said he won't miss the board meetings, which could reach marathon durations of four to five hours. But he added he did enjoy the important discussions that transpired.
"The intent is there from all of the stockholders involved in the educational process," Synder said about both the school and the community of Fort Recovery.
Phone: (419)586-2371, Fax: (419)586-6271
All content copyright 2006
The Standard Printing Company
P.O. Box 140, Celina, OH 45822