By Ryan Hines
rhines@dailystandard.com
Laura Homan and Melanie Heyne combined to throw a two-hitter leading the Celina softball team to an 8-2 win over Lima Shawnee in a Western Buckeye League tilt.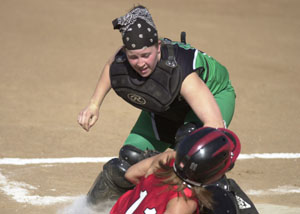 Celina stays perfect on the season at 9-0 overall while also upping its mark in the WBL to 3-0 behind a strong pitching performance by a pair of hard-throwing righthanders.
Homan threw the first four innings allowing one run on one hit with six strikeouts while Heyne came on for the final three frames and allowed just one hit to go with seven strikeouts.
"You can't fall behind against Celina like we did today because of their pitching," said Shawnee head coach Lou Seddelmeyer. "They have such good pitching that you can't afford to be down by too much to them because they're tough to score on. Celina is a good team."
"We wanted to get both of our pitchers some work again today and they both got better the longer they were on the mound," said Celina head coach Nicole Driggs. "They found their stride the longer they went and threw the ball well today for us." Heyne also had a strong day at the plate with three hits while teammate Allison Braun added a three-hit day as well. Audrey Harner, a freshman that has been on the varsity team for a handful of games, added two singles to the Bulldogs' cause.
The Bulldogs got all the runs they needed in the first two innings.
Braun brought home the first run with a screaming double to centerfield scoring Heyne while Alyssa Schaffner had an RBI single in the second inning scoring Audrey Harner to put Celina on top 2-0.
Shawnee scored its lone run in the third inning when Whitney Risner doubled home Jenny Marsh to cut the Celina lead to 2-1.
However, Celina scored three runs in each of the fourth and fifth innings, helped out by five Shawnee errors, to put the game out of reach.
Shawnee committed four errors in the third frame to crowd the bases for three unearned runs in the fourth inning and Amy Niekamp, Audrey Harner and Schaffner each had an RBI during the fifth.
"It was a good game and we were playing well through the first three innings down just 2-1, but then we had a couple of errors and we went downhill from there," said Shawnee head coach Lou Seddelmeyer. "We have had some injuries that have taken away our top pitcher and catcher, so we're young right now and when you're young and you make mistakes, it sometimes snowballs and that's what happened today."
Celina is back in action again on Thursday for a nonconference road trip to Troy.
Phone: (419)586-2371, Fax: (419)586-6271
All content copyright 2006
The Standard Printing Company
P.O. Box 140, Celina, OH 45822