ST. HENRY -- The St. Henry baseball team snapped a three-game losing streak on Tuesday afternoon in a big way as they routed New Bremen, 12-2, in five innings in Midwest Athletic Conference play at the Wally Post Athletic Complex.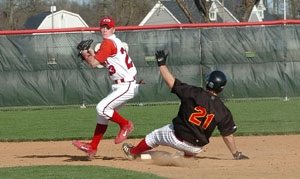 With the win, St. Henry, the number-one ranked team in the first state poll for Division III, improves to 2-0 in conference play and 11-4 overall. New Bremen falls to 0-2 in the conference and 4-5 overall.
The difference in this game was simple, the Redskins were able to execute offensively and defensively when they needed to and the Cardinals were unable to execute in the same key situations.
A perfect example of this execution, or lack thereof, came in the first two innings. In the top of the frame, New Bremen got hits from Logan O'Neil and Matt McCollum with one out but failed to score as Scott McCollum bounced out and Corey Barlage popped out to end the inning.
In the bottom of the same inning, Mike Gast reached on a fielding error to start the frame, went to second on a throwing error and went to third on a single by Kyle Bruggeman. Andy Puthoff plated the first run of the game with a double, the Redskins scored the second and third runs on ground balls to the right side of the infield by Jon Clune and Tyler Post. St. Henry blew the game open by sending 12 men to the plate, scoring eight times in the second frame. Jay Woeste doubled, Josh Werling walked and A.J. Kremer reached on a bunt single to load the bases before Mike Gast plated three runs with a triple to left-centerfield to make the score 6-0. Kyle Bruggeman then unloaded a two-run homer to rightfield to up the score to 8-0.
Andy Puthoff walked to continue the inning but he was forced at second by Jon Clune before back-to-back doubles by Post and Woeste made the score 10-0. Werling plated the final run of the inning with a single.
"Our focus tonight was to come out here and play a lot better defense, keep ourselves mentally sharp and get good quality at-bats and I think we achieved all those things today," said St. Henry coach John Dorner. "We had some really good at-bats, we got down in the count, we fouled some balls off and we got some good swings in. The thing that really pleased me today was the way we played defense.
"When you're playing bad the small things like moving runners along and laying down bunts are things that get overlooked and maybe with the way we did the little things today, it's a sign that we are getting things going back in the right direction," continued Dorner.
"I've been saying the same things all year, we need to make the routine plays, make every swing count and make every at-bat the best you can make it. I've been saying it till I'm blue in the face and it just has not sunk in and some of them just don't get," said New Bremen coach Justin Firks. "We have talked the same things the last three years and it seems like it has gone in one ear and out the other or something. We left too many men on base and hit too many weak ground balls.
"We talk about being a young team but it is not the young guys who are making the mistakes, it's the upperclassmen," continued Firks. "I just hope the guys start taking pride in their game and begin the improvement process on Saturday."
In all, the Redskins pounded out 13 hits, including eight for extra bases. Gast, Bruggeman, Puthoff, Clune and Woeste had two hits each.
On the other side, New Bremen collected five hits and another five walks and a hits batsmen off a pair of St. Henry pitchers but could produce just two runs as they stranded eight runners, including all eight being in scoring position.
St. Henry returns to action on Thursday as it travels to Rockford to take on Parkway in battle between two teams that are unbeaten in conference action. New Bremen returns to action on Friday as it opens play in the Fort Loramie Invitational against Triad.