By Shelley Grieshop
sgrieshop@dailystandard.com
VAN WERT -- A Willshire man was sentenced to three years in prison Wednesday morning for a hit and run traffic accident in 2004 that killed two men from the Rockford area.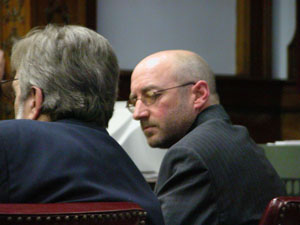 Carey Hamrick, 42, shook in his chair and cried as Judge Charles Steele ordered him to prison during the hearing in Van Wert County Common Pleas Court. The father of two also was given 11/2 years in jail, but that time will run concurrent with the prison time.
Steele also suspended Hamrick's drivers license for five years.
In a plea bargain two weeks ago, Hamrick pleaded no contest to a felony charge of leaving the scene of a fatal accident and three misdemeanor charges, including two counts of vehicular homicide and a single count of vehicular assault.
The courtroom on Wednesday was filled with more than 50 family members and friends of Will Wolfe of Rockford and Brian Schug of Willshire, who were killed when Hamrick's truck struck their car head-on along state Route 49 near Willshire on Dec. 26, 2004. The pair, both 26 years old, had attended school together and stayed close beyond high school graduation, their families stated in court. Before sentencing, Hamrick's employer, Charles James of Fleetwood Motor Homes, described Hamrick as "loyal and trustworthy." Also giving testimony in Hamrick's defense was his wife, Jennifer Sue Hamrick, who -- along with defense attorney William Kluge -- begged the judge to grant her husband probation or local jail time.
"I know so many people suffered through this, and we're so sorry, so sorry," she said as she wiped tears from her eyes.
She said her husband is a good father and his absence would create a financial hardship for their family. Sending him to prison also would be difficult for their two children, ages 7 and 8, she added.
Hamrick stood up and briefly addressed the victims prior to sentencing.
"I am so sorry for what has happened from the bottom of my heart," he said.
The mothers, wearing pins on their lapels with photos of their dead sons, had nothing but harsh words for Hamrick when they spoke.
"You ruined a lot of lives," said Kathy Schug, failing to fight back tears. "I will never forgive you for what you've done ... You'll have to live with this the rest of your miserable life."
Not all the victims were unforgiving. Will Wolfe's wife of 21/2 years, Rachel, now 24, was driving the car that Hamrick struck. She said counseling has helped her go on with her life.
"I decided from the beginning that I have to forgive you. God loves you, and he loves me," she said as both she and Hamrick cried aloud together. "I don't hate you, I can't hate you. God is my vindicator. I've made mistakes, too, and my closure is talking to you today."
The case took a bizarre twist in late 2005 after Kluge and Special Prosecutor Kris Poppe thought they had worked out a plea agreement. However, at sentencing in January, Hamrick pleaded no contest to the amended charges and claimed he was the victim of hypoglycemia (low-blood glucose), which had contributed to his actions the day of the accident. Steele refused to accept the plea and reinstated Hamrick's not guilty plea, bringing the case back to square one.
Then earlier this month Hamrick withdrew the medical condition claim and pleaded no contest to the prior plea bargain, which was accepted by the judge.
Sheriff's deputies speculated that Hamrick had been drinking alcohol prior to the 6 p.m. crash, but the theory could not be proven, Poppe said. Hamrick fled the scene of the accident and did not turn himself in to deputies until nearly eight hours later. When tested at that time, he had a 0.03 blood-alcohol level -- well below the legal limit in Ohio of 0.08, Poppe said.
Poppe told The Daily Standard that experts may have been able to estimate what Hamrick's blood-alcohol level "could have been" at the time of the crash, but couldn't prove whether the alcohol was consumed before or after the accident.
The victims' mothers believed Hamrick was drinking prior to the accident and they loudly chastised him in court for leaving their children to die at the scene without trying to help.
"There was a phone in your truck, why didn't you call for help?" Will Wolfe's mother, Elmyra Wolfe, asked Hamrick, glaring at him from just a few feet away. "You turned yourself in when the appropriate time came. You only wanted to save your own butt. How proud your family and friends must be."
Steele told the victims there was nothing he could do in sentencing Hamrick that was going to make the situation better.
"I do know it goes against nature for parents to bury their children instead of vice versa," he said. "This won't bring closure, you will miss them every day of your life. But maybe someday you can forgive and that may bring closure."
After the hour-long hearing was over, Poppe said he felt the sentence was "appropriate."
"It's always difficult when you're dealing with death. You're never pleased with anything in a case like this," he added.