By Janie Southard
jsouthard@dailystandard.com
WAPAKONETA -- A series of steel doors close resoundingly through the Auglaize County Jail as Mary Eyink winds her way to her GED classroom.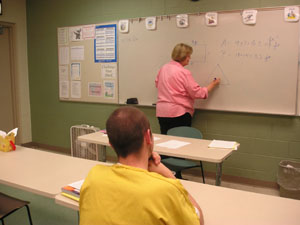 It's a good day for Eyink, who learns two of her students just passed all five components of the test. She has taught GED classes to inmates for the past seven years, and during that time 63 have made the grade.
"It's an up, sure. I like my students, and when any of them do well, it really pleases me," Eyink of New Bremen says from her classroom at the jail.
One student, she recalls, not only got his GED under her guidance, but went on to get an associate's degree in business management while serving five years in state prison.
"He called me when he got out, but we didn't have much time to talk. But I could see he'd begun to learn he likes learning. I hope he's doing well. He's paid his dues," she says. The adult education unit, one of four centers in the Auglaize Mercer ABLE/GED program, began at the county corrections center at the same time the jail opened in 1998. The students choose their classes, and their learning level can range from second to 12th grade.
Sometimes it's frustrating for both student and teacher.
Inmates at the lower educational level often are easily discouraged with the struggle just as they would be in the public school system. One day they just don't show up for class, and Eyink may never see them again.
"For me, the frustration comes when a student is close to being able to take the GED test and is either released or moved to another facility," the teacher says. "But, on the other hand, there have been a few instances where the student has requested the judge to delay their release date so they could take the test."
Eyink, who also has taught in the public school system, considers her pupils a unique clientele who, for the most part, have grown up with a different value system that usually includes a unique language.
"Oh, yes, we have a lot of conversations about their swearing and they say I could just start talking like they do. But I say, 'Oh no, you don't. You're coming up to my level; I'm not coming down to yours,' " she laughs.
Eyink is firm that her students are not bad people, but rather just people who've made bad choices and got caught.
Along with scheduling, class make-up can be a problem because of the various isolation requirements.
Males and females cannot attend the same class, and even within those segregated groups, not everyone can get along with everyone else. Eyink does everything possible to head off any fights/arguments. So far, she's been successful.
Also, class time often is eaten away waiting for each prisoner to be escorted to the classroom.
"It's not like the bell rings and they all file down the hallway to school. Each one must be individually escorted by a corrections officer. It all takes time," she says.
The back of the sage-green classroom is covered with bookshelves containing hundreds of volumes of leisure reading from William Bernhardt's "Cruel Justice" to John Grisham to Stephen King to "How to Build a Race Car."
Eyink has done a lot to keep the bookshelves stocked over the years with books she buys at the Dayton Public Library's annual book sale.
The inmates can take out a couple books at a time and are usually very careful with the reading material.
"Hardbacks are better because they're sturdier. It's not because they tear them up. It's just wear and tear," she says.
The teacher believes reading encourages her students and contributes to their resolve to improve themselves even though many of them have family and personal issues in addition to their legal issues.
Even in the face of all odds, inmates can buckle down and do their homework, if they really want, Eyink says.
"I just love it when that light in their head comes on. They get really focused. You know, this is their one big chance to do something good with their time here."