By Shelley Grieshop
sgrieshop@dailystandard.com
ST. MARYS -- Awareness, education and having the proper equipment on board can mean the difference between life and death for boaters on Grand Lake.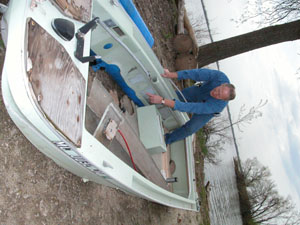 "Cell phones are great," says Grand Lake St. Marys State Park Manager Craig Morton.
Cell phones, Marine band radios and other types of communication can be key to getting help fast in an emergency on any waterway, he says. Phones with Global Positioning System (GPS) technology are best to properly locate the caller, he adds.
"Especially in the dark, it's easy to get turned around on the lake and give the wrong directions," Morton explains.
Flares can be helpful and even small, two-way radios with ranges of several miles can help bring aid faster to a disabled boat or other on-the-water emergency, he says. In early April, three area men were taking a boat out on the north side of the lake when they had trouble guiding the 14-foot, flat bottom johnboat in heavy winds. The trio made it to Safety Island where they stayed until rescuers reached them the next morning.
No charges have been filed against the men, says Brett Trump, area supervisor for the Division of Wildlife.
"They really didn't violate any laws even though they might have made some poor choices," Trump says. "If we had told them to get off the lake and they didn't, that would be a different story."
This time of year the water temperature can be deceiving to those looking for some outdoor fun on the lake. The temperature outside may be warm and sunny, but the water right now is only about 70 degrees -- more than 20 degrees cooler than the human body.
"Under 75 (degrees) we consider cold water," Trump says.
After dark, as temperatures drop, a person can quickly develop hypothermia, he adds.
Boating accidents are caused most often by human error, according to the Division of Watercraft. Operator inexperience and inattention rate number one and two as the leading causes of boating accidents. National accident studies estimate that for every boating fatality, there are 10 accidents and for every 10 accidents there are 600 near misses.
The Ohio Department of Natural Resources recently kicked off their "Operation Overboard" campaign, warning boaters not to overload or improperly load boats causing them to capsize. The agency also is advocating the use of U.S. Coast Guard approved life jackets.
An estimated 3 million Ohioans go boating each year. Grand Lake, like many other recreational waterways across the state, has seen an increase in watercraft in recent years, officials say. That is one reason the Division of Watercraft will officially open a new office in Wapakoneta on July 4, Trump says.
"About three or four years ago, the department (Ohio Department of Natural Resources) finally saw the need to have an office in the area," he says, adding its location is strategically close to both Indian Lake and Grand Lake.
Thanks to funding from the U.S. Coast Guard, boat registrations and gasoline tax, Trump and four other officers, a secretary and a summer intern will man the office on Industrial Drive.
"We plan to increase day and night patrols and do safety education classes in the spring and fall," he says.
Of course, funding won't allow officers to be on the lake all the time but they plan to be especially visible on weekends and holidays, Trump adds.
"I want our guys on the water as much as we can be to help people when they need it, make sure everyone is following the rules and to remind everyone to put safety first," he says.