By Gary R. Rasberry
grasberry@dailystandard.com
COLUMBUS -- Ross Homan is known for making an impact in debuts.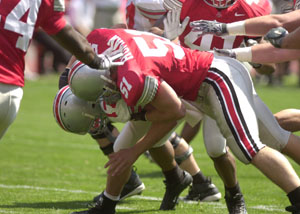 Whether running back a kick for a touchdown in high school as a freshman or leading his team in tackles in his first taste college football, Homan finds a way to get noticed.
The Coldwater graduate, who picked up his diploma in December and enrolled at Ohio State early to get a jump start on his education and football, was introduced at the spring game on Saturday.
Homan's name was called out several times on the day, usually in the sentence "Tackle by Ross Homan."
The freshman linebacker tallied eight tackles -- five solo -- and added a sack in helping the Scarlet defense post a 12-0 shutout of the Gray. Homan, at weak-side linebacker, looked like a seasoned veteran getting the defensive signals and relaying them to the team. "Before the game, I wanted to be as comfortable as possible," said Homan, who carried what looked to be his playbook to the interview room. "I didn't try to be shaken up playing in front of the crowd of 70,000-plus fans (actually 63,649). I tried to take control of the huddle and tried to make the players better today."
Homan started his day in a fashion that he was used to at Coldwater, getting involved in the first defensive play of the game and recording the tackle.
"It was good breaking the ice," said Homan of that first tackle. "After that first tackle, I was calm and collective and playing my game."
Homan knew what his limitations would be going into the game having worked the defense for just a couple of months.
"I knew I was going to make mistakes, but the big thing coach Fick (linebackers coach Luke Fickell) wanted out of me is to compete," said Homan, who was surrounded by the media the moment he came out of the locker room. "I thought I competed very well today. I think I did very well today.
"I'll watch game film and be very critical of myself and try to get better, especially in the mental part. I'll work out and try to get better," added Homan.
Homan, and other freshmen like running back Chris Wells, got the early start by enrolling early and Homan believes that this will only help.
"Coming in early is a huge thing for me," said Homan. "I'm so glad I made the decision to come in early, to get this out of my mind (playing in front of the fans and the pressure). It was pretty good."
One player that has helped Homan in getting ready for school is a teammate from an old rival, St. Henry grad Todd Boeckman, who has been at OSU for three years.
"Todd helped me out right when I got here," said Homan. "Class-wise, football-wise. He made things so much easier for me."
Homan 'thanked' Boeckman by helping stop him short of the goal line in the first half, preventing the Gray's biggest chance to score points in the game.
Ohio State coach Jim Tressel had high praise for Homan.
"Homan has been productive since day one. That position is productive in our defense," said Tressel. "Cie Grant was productive and A.J. Hawk was productive. In the design, that position (weakside linebacker) is going to get an opportunity to make plays. Now can you make them? Ross Homan can make them. Marcus Freeman can make them.
"You can ask anyone on the team about their impression about Ross Homan in his first four weeks on campus, actually he was here in the winter and got a 3.7 GPA. His first 14 weeks on campus has been extraordinary."
Homan and Freeman, a junior who led all defenders with 10 tackles, three solo, will battle for the weakside linebacker spot.
As for what the fall holds for Homan, Tressel said that it should be a good battle to replace the spots left by Hawk, Bobby Carpenter and Anthony Schlegel.
"From a linebacker standpoint, we have competitive guys. We have the height, weight and speed. We don't have the experience. They want to gain the experience. They're bright kids, very bright. We're going to have some great battles to see who emerges in those positions."
In addition to Homan and Freeman, sophomore James Laurinatis, senior Mike D'Andrea (missed the game with an injury), sophomore-to-be Austin Spitler (whom St. Marys fans might remember from Bellbrook in the playoffs), and senior John Kerr will all battle for spots.
Homan hopes that what he did on Saturday will have a good effect on what fall brings.
"To compete, that's the biggest thing that we do out there today," said Homan. "Compete and show what we got."