By Gary R. Rasberry
grasberry@dailystandard.com
COLDWATER -- Despite a busy schedule for the week, Celina added Coldwater to the slate for a Monday contest and the Bulldogs came out on top, 12-6, in the Mercer County matchup at Lady Cav Diamond.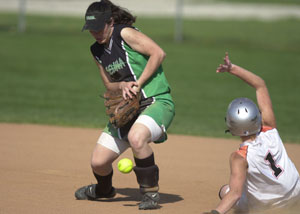 Celina faces Elida today and once-beaten Parkway on Thursday before facing league powerhouse Lima Bath at Feth Field on Friday.
Celina and Coldwater matched runs for the first two innings before the Bulldogs emerged for a 12-6 win to improve to 12-0 on the season. The Cavaliers, having been no-hit on Saturday by St. Marys, fall to 9-7 with the loss.
Laura Homan led off the first frame with a ground-rule double before being driven home by an Amy Harner single. Melanie Heyne reached on an error and Allison Braun singled her home to highlight the Bulldogs' four-run first inning off Amber Heyne.
But Coldwater came back as Renee Hemmelgarn led off with a single and promptly stole second and third before Tasha Stucke singled her home. Amber Heyne followed with a single and with two outs Beth Giere took the next offering deep to right, scoring Stucke and Amber Heyne. With Celina slow to get to the ball, Coldwater coach Jack Mescher waved Giere home, allowing her to score the inside-the-park homer to tie the game. "I was real proud of the way they started off," said Mescher. "Anytime a team pops four runs off the bat, you're at their mercy and start changing the gameplan. Tonight, the girls came out hitting and when we tied it up, you can start playing your game."
Celina got two more runs in the top of the second, but Coldwater squared the game again at 6-6.
The Bulldogs went up for good when Melanie Heyne singled in Alyssa Schaffner and Homan with two away in the third to go up 8-6.
"I was real happy with the hitting," said Celina coach Nicole Driggs, whose team collected 15 hits on the day. "Our bats came to hit today and we were aggressive on the bases."
Celina went with its ace, Melanie Heyne, in relief of Homan, who allowed six earned runs on seven hits in just two innings. Heyne retired the first 11 batters she faced before giving up a bloop single to Brooke Gross, then retired the next four batters to end the game. Melanie Heyne struck out eight and walked none to earn the win.
"Mel shut us down," said Mescher of Melanie Heyne, who is the cousin of Cav pitcher Amber Heyne. "She's a heckuva pitcher."
"They're (Coldwater) an aggressive hitting team," said Driggs. "They're very confident at the plate. They came ready to play and wanted to hit. That's what hurt us there. A pitcher is on sometimes and off sometimes. You recognize that as a coach, you do what you have to do. The good thing is, Mel will be ready for tomorrow with a nice little warmup."
Homan made up for a tough day in the circle with a 4-for-5 day at the plate and three runs scored while Amy Harner added a 3-for-5 day with two RBI.
Hemmelgarn went 2-for-4 with four stolen bases and two runs scored while Stucke went 2-for-3 with two stolen bases.
Celina hosts Elida at Feth Diamond while Coldwater travels north to Ada.
Phone: (419)586-2371, Fax: (419)586-6271
All content copyright 2006
The Standard Printing Company
P.O. Box 140, Celina, OH 45822