By Shelley Grieshop
sgrieshop@dailystandard.com
Shhh! The duck's resting.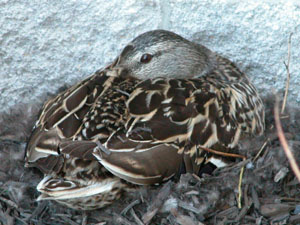 Employees at Citizens National Bank in Celina have tried their best to be extra quiet since discovering a female mallard duck nesting just a few feet outside their back door.
The bird evidently needs all the rest it can get, she's been busy. She's hatching about a dozen eggs, says loan officer Chris Dippold.
Bank employees say they're worried about the brown and white speckled mother-to-be and her pending chicks who have made their home near the busy intersection of Grand Lake and Havemann roads.
"We really don't know what to do," Dippold says, with a concerned fatherly look. Brett Beatty, an assistant wildlife management supervisor for the Ohio Division of Wildlife, advises the bank employees to "just let them be."
"It's the best thing to do," he says. "Soon after they hatch, they'll follow mom to water."
Legally, ducks and geese must be left alone. Because they are migratory birds, they can't be handled in any way without written permission from the Ohio fish and wildlife service, Beatty adds.
Charlene Brooks, a loan secretary, fears for the brood's safety. A few feet to the north cars speed through the bank's drive-thru, a car wash is directly to the west and then there's the busy intersection to the east, blocking safe passage to the nearest pond on Crown Equipment Corp.'s property.
"I don't know how they'll make it all the way over there," Brooks says.
Sometime in late March, the duck decided to build herself the nest in the mulch of the bank's landscape beneath an electric meter. At first there was just one egg in the nest but as time went by more were visible until the small nest was brimming with white.
Beatty said it's not unusual for female mallards to lay eight to 12 eggs over a period of weeks. When the last of the clutch is laid, the mother begins an incubation period that lasts about 27 to 28 days, he says.
Within 24 hours all the eggs will hatch together. Soon after, the mother will exit her temporary home and head to water. Mallards are precocious birds, meaning the chicks almost immediately fend for themselves by eating mainly insects. They also can walk for great distances when only a few hours old but can't fly until about 2 months old.
"For some reason the mother is comfortable there under the awning, she's protected from her predators like hawks and owls," Beatty says, adding the duck likely grew up on the lake and is accustomed to traffic and people.
Some workers have seen the male fly in to feed the female -- an unusual behavior for mallards, Beatty says.
The bank employees await the chicks' birth knowing there's little they can do to help. Sadly, mallards lay a large number of eggs because only about two or three survive to adulthood.
"They'll have to just waddle away, I guess. I don't know how they'll maneuver through the traffic," Dippold says.
Perhaps one day soon motorists will see several well-dressed people marching a family of ducks safely across the street.
Phone: (419)586-2371, Fax: (419)586-6271
All content copyright 2006
The Standard Printing Company
P.O. Box 140, Celina, OH 45822