By Gary R. Rasberry
grasberry@dailystandard.com
As much as he likes going after opposing quarterbacks and running backs and even catching a few touchdowns, Mike Vrabel likes helping his alma mater nearly as much.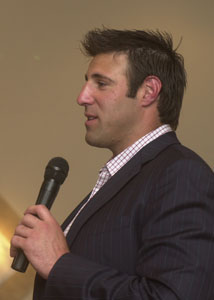 The former Ohio State standout and linebacker for the three-time Super Bowl champion New England Patriots was in Celina on Wednesday evening, signing autographs, posing for pictures and talking to members of the Mercer County chapter of The Ohio State University Alumni Association at Romer's in Celina.
It's all about giving something back to the school where he got his education and where he was groomed into becoming the standout pro linebacker he is today.
"It means a lot," said Vrabel, who talked while he signed and only paused to pose for pictures with fans. "Because you realize how many fans are out there, how many people, in their own way, support their great university that we call Ohio State."
Vrabel puts more than just his voice and handshake into helping his school. At Saturday's OSU Spring Game, Vrabel and wife Jen, a former Buckeye volleyball player, donated $75,000 towards renovating the Woody Hayes Athletic Center on campus. Vrabel has also teamed with former Buckeye teammates Ryan Miller -- who is married to former Minster and OSU women's basketball star Lauren Shenk -- and current Buckeye linebackers coach Luke Fickell to create the 2nd and 7 Foundation, which promotes literacy in Central Ohio by donating books to area schools. Add into the mix raising a family with two children and playing in the National Football league, it's obvious Vrabel is very busy.
"There's always room to say 'Well, I could have done more,' " said Vrabel. "But the time I have allotted in the offseason has to be broken into working out, spending time with my family, doing things for my foundation, but also going out to represent the university. Whether that be speaking to potential donors, speaking to the current team at Ohio State or going to events like this. There has to be a good balance. You have to have time to relax and enjoy yourself, there has to be a good balance."
Vrabel, who maintains a residence in Columbus and works out at Ohio State during the offseason, makes these trips to alumni associations and fundraisers for charities quite often.
Mercer County, especially the St. Henry area, draws Vrabel back the most. A teammate to St. Henry natives Bob and Tom Hoying at Ohio State, Vrabel has returned often to the area, especially at the annual St. Henry Stag Nite, where he has brought down the house with his humorous after-dinner speeches.
"They've taken me in since my freshman year," said Vrabel. "Tom and I were roommates and we've gotten along great 13 years since. It's been great. His parents, family, coaches and community welcome me back. I had a key to the city a few years ago. That was special. When I was invited, it was an easy answer. It's an easy drive from Columbus. Everybody in this community, and Bob and Tom's parents, have been really good to me over the years."
Vrabel has noticed that the Ohio State fans' love for its stars goes on after their days of wearing Scarlet and Gray are done. Many find their favorite player's jerseys from the pro teams they are playing on and become fans of that team.
"You get out to these communities, and people, I find, follow the New England Patriots because of who plays for them, or they follow the (St. Louis) Rams because Orlando Pace plays for them," said Vrabel. "They don't really like the Patriots or the Rams, they love the Buckeyes and love watching the past Buckeyes play football in the NFL."
And it's not only in Ohio where the Buckeye fans ask him to speak.
"They are everywhere," said Vrabel. "You go out and travel and get invitations from the Atlanta Buckeye Club when you're playing the Falcons. Go to San Diego, you get an invitation. There's always people out there, looking to reach to Ohio State players for the way to support the university."
With all the things in Vrabel's basket -- looking to help the Patriots get back to the Super Bowl, spending time with family and friends -- Vrabel is always glad to meet the fans.
"It's great to come back out, meet them and meet them again," said Vrabel. "I'm pleased (in) anyway to represent the university. I'm happy to do it."