By Gary R. Rasberry
grasberry@dailystandard.com
ST. HENRY -- With having nearly a week off from baseball due to prom, rainouts and off days, St. Henry had a good excuse to be a little rusty.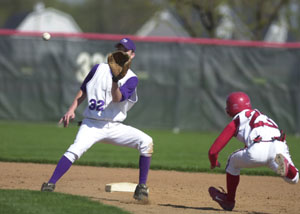 The Redskin bats looked sharp as coach John Dorner went with three pitchers to hold off Fort Recovery, 8-5, in a rare Wednesday afternoon contest at the Wally Post Athletic Complex.
St. Henry stays a half-game behind Midwest Athletic Conference co-leaders Versailles and Parkway at 3-1 and improves to 12-5. Fort Recovery went to 8-7 overall and 1-3 in league play.
With a makeup game against Celina scheduled for today (4:30 p.m.), plus a big MAC matchup at Coldwater on Friday and a sectional game against always tough Crestview on Saturday, Dorner planned on the Johnny Wholestaff approach to his pitching.
Starter Brent Bills went the first three innings and left with a 4-1 lead. Jon Clune came in and threw two innings of one-hit ball to earn the win while Jay Woeste went the final two innings despite being hit on the hand by a pitch in the bottom of the fourth. "A little bit rusty, but played well for having the week off," said Dorner. "Jay (who gave up four runs in two innings of work) wasn't on top of his game, but he got hit on his pitching hand and I'm a little concerned about it. He wasn't as sharp as he usually is, but I'm sure he'll be all right."
The Redskins' offense, entering the game batting a healthy .352, was not as rusty belting seven hits off Indians starter Brad Fortkamp, who gave up eight runs, five earned, in 32/3 innings. St. Henry also took advantage of four Tribe errors, three walks and two hit batsmen.
"I told the guys we can't come out and play like we did at the start (of the game)," said Indians coach Aaron Vaughn. "Give up eight runs to St. Henry, you're not going to come back. You're going to give yourself a chance, but it's going to be tough to come back.
"They got some hits, tip my hat to them, but we gave up four errors in the first four innings. That's not giving the good effort from our guys," added Vaughn. "I'll always say these guys never give up. That's one thing I'm proud of. If we get down, we don't give up."
"We did swing the bats well for having the week off," said Dorner. "I was pretty pleased with that. For the most part, defense played very well. It was a good game to come back and get a win."
"You have to give Fort Recovery credit for not dying and coming back to make it a game," continued Dorner.
Josh Werling paced the Redskins with a 3-for-4 game and an RBI while Tyler Post added a two-run double. Mike Gast, Andy Puthoff and Kyle Bruggeman each scored two runs.
Steve Trobridge led Fort Recovery with a 2-for-3 game and an RBI while Kevin Schoenherr went 2-for-4 with two runs scored and came in to relieve Fortkamp and pitched 11/3 no-hit innings on the mound. Dan Heitkamp came on to pitch an inning of perfect relief in the sixth.
Fort Recovery hosts Marion Local in a MAC matchup today.
Phone: (419)586-2371, Fax: (419)586-6271
All content copyright 2006
The Standard Printing Company
P.O. Box 140, Celina, OH 45822