By Gary R. Rasberry
grasberry@dailystandard.com
ST. HENRY -- Amber Heyne scattered four hits while throwing a complete game to help lead Coldwater past St. Henry, 7-1, at the Wally Post Athletic Complex on Thursday afternoon.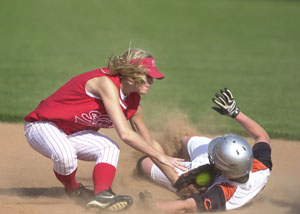 The Cavaliers pick up their 10th win of the season and improve to 3-0 in the MAC while St. Henry drops to 4-10 overall and 1-3 in the MAC.
"We talked about just putting the ball into play because when you do that, anything can happen," said Coldwater coach Jack Mescher. "Move the runners over and just do anything you have to do to get on base. I think they showed that tonight because they came out aggressive."
The game started with both teams locked in a pitchers' duel. Heyne allowed just one hit through the first three innings, getting some solid defense from her teammates behind her. Amy Uhlenhake got the nod for St. Henry on the hill and looked sharp, allowing just an unearned run in the second and an earned run in the third, while striking out three along the way.
Coldwater got its bats fired up in the fourth. After Jenna Bruns walked to lead off the inning, Brooke Gross singled on a play in which St. Henry thought there could have been an interference call on Bruns for blocking the fielder on the ground ball. The single stood up, however, and after Katie Welsch was hit by a pitch, Diana Schwieterman singled in Bruns to make it 3-0 in favor of the Cavs.
Renee Hemmelgarn grounded out to third, allowing Gross to score and after Tiffany Uhlenhake singled to load the bases, Tasha Stucke singled in two more runs to wrap up the scoring in the inning as Coldwater sent 10 players to the plate.
"They hit balls that seemed to know where to fall," said St. Henry coach Josh Link. "To their credit, they put the bat on the ball."
"Keeping that lead-off runner on base, I think that was a key," said Mescher. "We were able to get the runner on for three or four of the seven innings. We talked about that before the game started."
After that, Amy Uhlenhake and reliever Karla Buschur settled down and kept Coldwater from scoring again, allowing just one more hit in the game.
Heyne continued to roll on the hill, allowing just an unearned run in the bottom of the fourth. Heyne walked just one batter while scattering four hits and striking out four.
"Amber did a good job of not letting their runners get on until the seventh inning," said Mescher. "That was a key in the game."
"Defensively, they made some nice plays," said Link. "Line drives, stuff like that. We could not get the bat around on that. Timely hitting, something we've been accustomed to the last couple games, wasn't quite there today."
Schwieterman led Coldwater with a 2-for-3 game at the plate while also scoring two runs. Stucke added two hits and two RBI with Tiffany Uhlenhake and Heyne each adding two hits.
Jenna Bruns had an RBI single to pace St. Henry.
Coldwater is off until Monday, hosting Marion Local in MAC action while St. Henry has a doubleheader scheduled for Saturday at home with Ansonia.
Phone: (419)586-2371, Fax: (419)586-6271
All content copyright 2006
The Standard Printing Company
P.O. Box 140, Celina, OH 45822