By Gary R. Rasberry
grasberry@dailystandard.com
MINSTER -- Both games of the Division IV baseball sectional semifinals at Minster were stopped short of seven innings as Fort Recovery and New Bremen rolled to lopsided victories.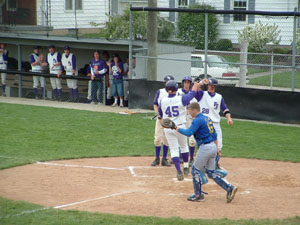 The Indians started off hot in the opener, scoring seven times on Waynesfield-Goshen in the first inning before coming away with a 15-5 five-inning win.
In the second game at Hanover Street Park, New Bremen broke open the game in the sixth with five runs to trigger the run-rule in an 11-1 win over Auglaize County rival New Knoxville.
Saturday's sectional finals have Fort Recovery (9-8) facing host Minster at noon at Hanover Street, while the second game will feature New Bremen (5-8) and Marion Local at approximately 2:30 p.m.
Fort Recovery 15, Waynesfield 5
(five innings)
The 1-12 Tigers looked overmatched from the start as the Indians put the first four batters on base and all four scored.
But the biggest blow of the day came from nine-hole hitter Steve Trobridge, who took Cody Sackinger's 0-1 offering over the left-field fence for a three-run homer, scoring Curt Heitkamp and Tony Diller ahead of him to put the Indians on top 7-0 after the first inning.
The Indians added four more runs in the second with Trobridge again coming up big with a big hit, this time a two-run single to wrap up the scoring in the second frame. Two more runs came in the third and fourth innings as the Indians belted out 11 hits on the day.
"We put the ball into play and that's what we told them we needed to do," said Vaughn.
Trobridge paced the Indians' offense, going 2-for-2 officially -- his third plate appearance resulted in a hit by pitch -- with a run scored and five RBI.
"He really has stepped up," said Vaughn of his designated hitter. "He struggled a little bit here and there. I thought he would get fastballs in the nine-hole. That's where he's been hitting the last couple of games. That gives us some offense in the bottom of the lineup."
Tribe starter Kevin Schoenherr continued a spectacular season as he went three innings to get the win, walking none and striking out six. The lone run Schoenherr allowed was unearned, extending his streak to 192/3 innings of shutout baseball to keep his earned run average on the season at 0.00.
"If we have an ace, I guess it's Kevin," said Vaughn of Schoenherr, who improves to 3-1. "They're all about the same (the pitchers). They all work hard and throw strikes. He did a great job coming out and throwing strikes."
Chris Galdeen was 3-for-4 at the plate, driving in two and scoring three times. Schoenherr was 1-for-4, but reached base three times, scoring all three times, and drove in two runs while Curt Heitkamp also drove in two.

New Bremen 11, New Knoxville 1
Cardinals Lefty Brad Wendel scattered five hits and two walks through six innings to get the win over the Rangers, but he also contributed at the plate, going 2-for-3 with two runs scored and two RBI.
The Cardinals got off to a strong start with a three-run second inning. New Bremen added three runs in the third and then five more runs in the sixth to end the game.
"I was talking to the guys about getting out to a good start," said Cardinals coach Justin Firks. "It seemed like we did that early on, then got sluggish in the middle innings and at the end kicked it in again. Good day to bounce back from a tough loss to Versailles (on Friday)."
All but one spot in the order got a hit in the game as the top and bottom of the order for New Bremen came up big. Leadoff man Brian Garman went 3-for-4 with three RBI, including a single in the bottom of the sixth to score Adam Jutte to trigger the run rule. Jutte, batting eighth, was 2-for-3 with two runs scored and two RBI. Nine-hole man Derrick Bruggeman also added a 3-for-4 day with an RBI.
The lone run Wendel gave up came in the top of the sixth when Jordan Settlage led off with a walk. After Wendel got Kurt Brown and Luke Howe to fly out, Mitch Kellermeyer walked and Brad Piehl singled in Settlage to break the shutout.
Wendel promptly got Garrett Rohr to strikeout, the seventh strikeout of the day for the sophomore southpaw, to prevent any more damage.
"I told him to come out early, pound the strike zone and get ahead (of batters) said Firks of Wendel. "We're not going to throw balls and issue walks (Wendel had just two). We're going to throw strikes and make our defense work a little bit."