By Shelley Grieshop
sgrieshop@dailystandard.com
WAPAKONETA -- A retired Grand Lake area superintendent and former teacher will serve six months in jail for pandering child pornography across the Internet.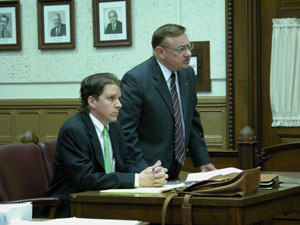 dailystandard.com">
Roger J. "R. Jay" Stauffer, 66, of New Bremen, also was labeled a sexual predator -- the most serious of the sexual offender classifications -- during a two-hour hearing Monday morning in Auglaize County Common Pleas Court. He will be required to register his address with the local sheriff's office every 90 days for the rest of his life after completing the local jail term.
Stauffer spent 21 years as a superintendent of New Bremen Local Schools and prior to that was a teacher and superintendent of the former Mendon Union Local School.
His wife and children and about a dozen other relatives and friends attended the hearing, sobbing at times as details of his actions were discussed.
In March, Stauffer pleaded guilty to a bill of information charging him with attempted pandering of obscenity involving a minor and pandering obscenity involving a minor, third- and fourth-degree felonies. He faced a maximum of 61Ú2 years in prison. Investigators found that Stauffer received and/or sent 100-200 child pornography images from his home computer on June 16, 2004, and between March 8, 2004, and Aug. 31, 2005. They also discovered 37 still images and five videotapes -- most pornographic in nature -- on the hard drive of his computer. The images included children participating in a variety of sex acts with adults and other children; one such image involved a nude girl approximately 4 years old having sexual contact with an adult male.
At least some of the images were received by Danish National Police who were performing an undercover sting operation. The Danish Police and the U.S. Department of Customs and Immigration contacted the New Bremen Police Department in September and a search warrant was obtained for his Canterbury Drive home in September.
Stauffer told the court he purchased the computer 11Ú2 years ago, about the same time he first entered a chat room and was "invited" to a Web site to see some interesting pictures, he said.
He said "out of curiosity" he went back twice to the site titled "100% Pre-teen Girl Sex Pics," using the screen name "Hard Jim" -- a name he told Auglaize County Common Pleas Court Judge Frederick Pepple had no particular meaning. Stauffer said soon after visiting the site he began receiving numerous child pornography images and invites to share the ones he had.
"I did nothing and started receiving those images. They said 'Send, send, please send,' " he told the court.
Stauffer said he deleted many of the images he received before viewing them. The ones he saw disgusted him, he added.
"It made me sick and turned my stomach," he said.
"Then why did you sent them on to others if they made you sick?" Pepple asked him.
Stauffer replied, shaking his head, "All I can say is they're awfully smooth talkers."
Throughout the hearing Stauffer apologized for his actions and the hurt he caused his family. He said he'd "never done anything like this" in his life.
"I don't know why I did it because I am not in any way excited or turned on by those pictures," he said, and later added, "I've never been a threat to any child ... I spent a lifetime caring about kids."
Before sentencing, Stauffer's attorney, Andy King of Lima, asked Pepple for probation for his client. King said Stauffer holds an exemplary record including a three-page resume listing community service, charitable works and membership in dozens of local organizations. King suggested Stauffer could continue to give to the community by teaching GED or adult education classes.
"Everyone who knows R. Jay knows this was out of character," said King, who refused to comment following the hearing.
In Stauffer's behalf, a co-worker from Lehman High School and his pastor from a congregation in New Bremen testified about Stauffer's commitment to education and "straight-laced and conservative" lifestyle.
Stauffer argued at times with Pepple about the extent of his involvement in child pornography and contradicted his previous statements to law enforcement officers. He repeatedly claimed he was not a sexual predator, stating he only agreed to the classification to avoid the possibility of being indicted on every single child pornography image in his possession.
In the end, before being handcuffed and brought to jail by deputies, he wept as he hugged his wife at the courtroom door.
Following the sentencing, Prosecuting Attorney Ed Pierce said he stands by his recommendation of four years in prison but respects the judge's decision. The judge, he said, had to balance Stauffer's good service to the community with the poor choices he made.
Although Pepple refrained from handing Stauffer a prison term, he wasted no time berating him for his actions before sentencing him.
Pepple said Stauffer lied to friends and family since being charged in March, telling them his involvement in child pornography was "accidental" in order to keep his good standing within the community.
"You're trying to hold yourself up in the community rather than wanting to go out as being a dirty old man. That's not remorse," Pepple said.
Pepple was visibly distressed that Stauffer failed to acknowledge the victims in the case -- the children who were raped, abused and exploited in the images Stauffer helped send around the world.
"If you think you have suffered embarrassment and emotional pain, what about the children who were involved in those photographs you forwarded? Think what they have felt," Pepple said.
Pepple also sentenced Stauffer to five years probation and ordered him to undergo mental counseling including sexual offender treatment. He can have no access to the Internet, no possession of nudity-oriented material, no contact with minors and cannot be in their presence. He also must have supervision when in the company of the children in his extended family.
Lastly, Pepple ordered him not to lie.
"You have been dishonest with those who love you the most ... and you have been dishonest with this court," Pepple said sternly.
If Stauffer violates any of the conditions he could be sent to prison for five years and 18 months.
Pepple told Stauffer he didn't believe he was a monster but warned him not to "blow off any of these conditions."
"If it wasn't for your age, health and other circumstances, you'd be gone today (to prison)," Pepple remarked.