By Ryan Hines
rhines@dailystandard.com
MENDON -- Parkway took a large leap towards its goal of winning the Midwest Athletic Conference softball title when the Panthers defeated New Bremen, 2-0, on Monday afternoon.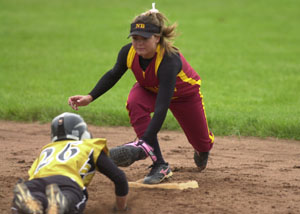 The Panthers (13-2, 4-0 MAC) now share first place in the MAC with Coldwater while New Bremen slips to 12-4 overall and 3-1 in league play.
"When you look at the schedule going into the season, you know that this will end up being a game that will have league implications and it did today. We're happy to come away with a win against a good team, but there's a lot of softball ahead," said Parkway head coach Mark Esselstein. "I reminded the girls after the game that we started the year 5-0 in the MAC last year and then lost two straight and didn't get a share of the league title, so there's no time to relax.
"It's a step, and it's a big step, but we're not an overwhelming team and we need to stay focused. We can be really good when we hit but we have to realize that this is just a step, a small step in the direction of where we want to go," continued Esselstein.
New Bremen head coach Craig Griesdorn knows that one loss doesn't vault the Cardinals out of the MAC title contention. "We're not out of the league race yet, but you can't worry about that right now, we just have to take care of ourselves," stated Griesdorn. "We're still in the league race and we have tournament coming up, so our big focus right now is just getting better because there's a lot of softball left to play."
Parkway hurler Tiffany Steinbrunner and New Bremen's Maria Staton were engaged in a tight contest dominated by pitching before the Panthers were finally able to break the scoreless tie in the fourth inning.
Megan Smith lined a single to right-centerfield to lead off the fourth for the Panthers and Elaine Crowell pushed Smith to second base with a perfectly executed sacrifice bunt.
Jan Boroff then reached for Parkway on a New Bremen error and stole second base to put runners on second and third base with one out.
Parkway's Elisha Schumm then hit a ground ball on the right side of the infield allowing Smith to score and give the Panthers a 1-0 advantage.
"We knew that it was going to be a tight game offensively in this game because of the two pitchers on the mound," admitted Esselstein. "That was a great at-bat by Elisha Schumm. She had two strikes on her and she was still able to hit the ball hard to the right side of the infield to bring a run home."
Boroff advanced to third base on the Schumm fielder's choice and then scored on a Staton wild pitch for a 2-0 Parkway lead.
The Cardinals had a tough time getting any offense going against Steinbrunner as the Parkway righthander gave up just four hits. New Bremen had three runners in scoring position during the contest, but the Cardinals went 0-for-5 from the plate in those situations.
"We had some people in scoring position at times, and we made contact against a very good pitcher, but we just didn't come up with the big hit in those situations to drive in runs," said Griesdorn. "The good thing was that we put the ball into play, but they made the plays defensively and we just couldn't find the holes."
Steinbrunner also added a pair of singles, as did Jayme Marbaugh, to pace the Panthers' hitting attack.
Staton, who pitched well in a losing effort by allowing just two unearned runs while striking out six, had two of the Cardinals' four hits.
Parkway is back in action again today on the road at Allen East today in a newly scheduled contest while New Bremen hosts Versailles in another MAC matchup rescheduled from last week.
Phone: (419)586-2371, Fax: (419)586-6271
All content copyright 2006
The Standard Printing Company
P.O. Box 140, Celina, OH 45822