By Janie Southard
jsouthard@dailystandard.com
Forget "fill 'er up." Some area drivers may just be saying "plug it in!"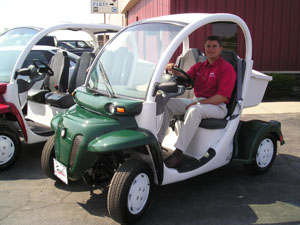 The new electric-powered GEM vehicle, offered locally by Bud's dealerships in Celina and St. Marys, runs off a 72-volt operating system and gets around town for about 50 cents a day.
The vehicle will run for about 30 miles between charges. A full charge takes about six hours and can be made with an extension cord plugged into any 110-volt outlet.
That kind of mileage would be a no-way stretch for gasoline-powered vehicles.
Brian Holstad, general manager of Bud's Chrysler Dodge Jeep in Celina, said Bud's took delivery on the GEMs (Global Electric Motorcars, LLC, a Daimler Chrysler company) a couple months ago. Although some may say the vehicles bear a resemblance to glorified golf carts, Holstad is quick to note the electrical cars are truly street legal, low speed automobiles.
"A golf cart is built for turf and goes about 10 miles an hour. The GEM can go about 25 miles an hour and has front wheel drive, independent suspension and disk brakes. Plus it's street legal for any street with a speed limit of 35 mph or lower," he said Wednesday morning at Bud's Celina car lot. "In fact, you need license tags for them just like you do a regular car."
And, like regular cars, there are options, such as doors and heat. As well, there are several different models available: two passenger, four and six passenger, short-bed and long-bed trucks.
"The base price for a two-passenger GEM is about $7,000. From there you can build the car you want from the options, or stay with the basic," Holstad said, adding there are about 32,000 GEMs on the road nationwide.
Although there may have been accidents nationwide over the past seven years, no one has been killed in a GEM, according to Holstad.
"They can keep up with city traffic and have enough acceleration for quick takeoffs. Plus they are as tall as a mini-van so they're easy to see," he said.
But, obviously, they're only for in-town trips to the grocery, to church, to the library.
"Originally they were designed for people in big cities who take public transportation to work. They get off the subway and then can rent a GEM to drive on to work or shopping," he said.
Livonia, Mich., was where the electric autos were designed and manufactured in 1992. A North Dakota businessman purchased the company and moved it to Fargo in 1997 and assembled the first vehicle in April 1998, according to the GEM Internet site.
Daimler Chrysler acquired the company in 1999. The cars are still made in Fargo.