COLDWATER -- One of the great things about sports is that there are several ways to win.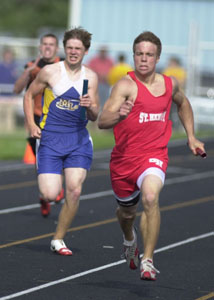 The varsity portion of the 2006 Mercer County/Knights of Columbus Track and Field Meet ran Thursday night at Cavalier Stadium is a perfect example.
The St. Henry Redskins boys used depth in the short and middle distance races to post an eight-point victory over arch rival Coldwater as the Redskins scored 97 points to 89 for Coldwater. Marion Local was third with 78 points followed by Parkway with 68 and Fort Recovery with 21.
On the ladies side, Coldwater used its overall depth, especially in the distance events, to score 103 points to easily outdistance Marion, which scored 78 points. Third was St. Henry with 70, Fort Recovery was fourth with 60 and Parkway rounded out the field with 40.
In the boys meet St. Henry was able to run up 80 of the 97 points in events that were shorter then 800 meters, 50 of those points came in individual events and they added another 30 points in relays. Leading the way for the 'Skins was the 800 meter relay team of Matt Thobe, Brad Hemmelgarn, Ryan Lefeld and Ryan Huwer, who set a new meet record of 1:34.50 which was more then a second faster then runner-up Marion Local.
Other individual short race winners for the Redskins, included Huwer who doubled up with wins in the 100 and 200 meter dashes. Thobe chipped in with a win at 400 meters.
"I was very happy with both the girls and boys teams and the way they performed," said St. Henry coach Mike Eyink. "With Coldwater and Marion, there is always good competition and it was nice to see the boys win today. I was ecstatic by the way the 800-meter relay team ran today. This team is faster right now then the team that went to state last year and they are really happy with the way they ran today."
The wins at the shorter distances by the Redskins more than made up for the Coldwater domination of the distances races. In the 800, 1,600 and the 3,200-meter runs, the Cavaliers totaled 32 points and added an additional 12 points in the relays.
Coldwater senior David Wilker set a new meet in the 3,200-meters in a time of 9:52.93 which was 30 seconds faster than his teammate Jamie Kuess. Wilker's time broke the old 3,200-meter record of Celina's Ken Cline who set the previous record of 9:56.9 in 1994.
"Going into tonight I was battling a hip injury the past couple of weeks and coach and I discussed what race I wanted to run so that I could be ready for the league meet next week and I went out there and it felt good," said Wilker. "By the second lap, I felt good and I went for the record. So I pushed it and when I got across the finish line I said 'wow!'."
Parkway's Jacob Fox followed his second place in the long jump on Tuesday with a pair of individual wins on Thursday as he won both hurdles races and joined teammates Cameron Roehm, Josh Fisher and Dallas Agner to win the 400-meter relay in a time of 45.12, which was almost a full second faster than runner-up St. Henry
"This was a good day today," said Fox. "I wish I could of won the long jump the other day but Josh Fisher really jumped well. He is only a freshman and I really have to give it to him.
"I think the 110 hurdles was special for me today because I really like to run them and I am really getting good at running them," continued Fox. "We would really like to be about half second faster than where we are in the relay, but we are really working hard and hopefully, by district, we can drop a couple of 10hs or so."
Like their male counterparts, the Coldwater girls team used its depth in the distance events to propel their victory. The Cavaliers scored 50 points in events of 800 meters or longer.
"I can't be more proud thean I am of the way our girls performed today," said Coldwater coach Dan Pohlman. "I told the girls to give their all tonight and they answered the call.
"We just had a lot of tremendous performances," continued Pohlman. "Ashley (Kanney) really stood out in her distance races. Ashley Dues also came (Continued from page 1B)

through for us in the distance races."
The Cavaliers tripled up in the 1,600 meters as Ashley Kanney won the event, with teammates Ashley Dues and Allison Honigford placing third and fourth respectively.
Coldwater completed the distance triple as Kanney won the 800 meters by over eight seconds and Dues won the 3,200 with Honigford placing third.
The Coldwater quartet of Stephanie Wenning, Katie Wellman, Whitney Schmiesing and Kanney combined for a win in the 1,600 meter relay.
On Tuesday, the Cavalier 3,200 meter team of Schmiesing, Jenny Schaefer, Wenning and Kanney placed second.
While the Cavaliers dominated the distance, Parkway's Marian Bevington and St. Henry's Catie Evers divided the sprints and hurdles between them. Bevington won the both hurdles races, the 100 meter dash and placed second to Evers at 200 meters.
Evers placed second at 200, won the 100 and 400. Evers was also part of winning 800 meter relay team.
"Catie Evers had just a phenomenal day," said Eyink. "She came within a second of breaking her record from last year. She has been breaking 60 seconds consistently the last couple of weeks and she is just about where she wants to be."
There was one record set in the girls meet and that was by Janelle Jansen in the pole vault as she went 9-8 as she broke her own record of 9-6.
"Janelle got the record in the record in the pole vault and that is just want you want to do as a senior in your last home meet," said Pohlman. "I know she can do better but this is just a nice tune-up for the next couple of weeks."
The host school Coldwater swept the junior high meets. The boys scored 140 points as they used their depth as they scored in all 15 events. The younger Cavaliers won eight events, double up in eight events and had three placers in two events.
The Cavalier girls were just as dominate as they scored in all 15 events as well, winning 10 to roll up 136 points, which was 52 more than Marion Local. The Cavalier girls doubled up in seven events and tripled up in three more.