By Gary R. Rasberry
grasberry@dailystandard.com
BATH TOWNSHIP -- The Wildkitten Softball Diamond at Bath High School has not been the most hospitable place over the last few years for the Celina softball team.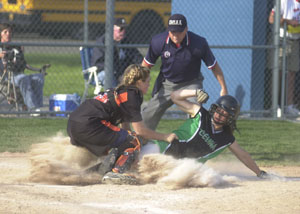 The diamond again was a cruel host as Elida took advantage of five Celina errors and did just enough to eliminate Celina, 7-6, from the Division II softball sectional on Monday. It's the second straight year Elida has ousted Celina from sectional play.
Elida (16-7) now waits for the winner of Wednesday's Bath-Shawnee game next Monday at Bath in the district semis. Celina, drops to 18-2 overall.
The two teams combined for 17 hits in the game, but Celina's errors came at times when Elida had runners in scoring position and the defensive miscues cost the Green and White.
"It was just a battle between bats today," said Celina coach Nicole Driggs. "Strong hitting all day. It was a good softball game to watch. It was exciting. I wish we could have stayed ahead, but it was a battle today." The errors began to haunt Celina in the third inning of a 2-1 game with the Green and White nursing a one-run lead. After Melanie Heyne got Ashley Whalen to ground out, Jamie Hollar swung at strike three, but the ball got past Megan Sutter, allowing Hollar to reach first.
Trista Jones singled to put runners at the corners and after another passed ball, Samantha Conrad singled to score Hollar. Jones also looked to score and would have been out at the plate on a perfect throw, but the umpires ruled that the third baseman interfered with Conrad by standing on the base, awarding Jones home plate and the second run of the inning. Conrad later scored on a Kylee Prince single for a 4-2 Elida lead.
But Celina came back. After getting a run in the bottom of the third to pull to within one run at 4-3, Celina led off the fourth with a double by Audrey Harner and a walk to Kelsey Moorman.
Alyssa Schaffner and Laura Homan both flew out, but Amy Harner tripled to right-centerfield, clearing the bases for a 5-4 Celina advantage.
Celina added a run in the fifth when Audrey Harner brought in courtesy runner Rachel Fleming with a fly ball, but after that, Hollar used solid defense to keep Celina from rounding home again.
That gave Elida additional chances to get the lead back. In the top of the fifth, Elida scored twice with two outs. After Conrad and Ashley Jones singled back-to-back and Prince reached on an error, Kayla Williams grounded to short for what should have been the third out, the throw, however, was off the mark, allowing two runners to score to take what was then a 6-5 Elida lead.
"We have had so many two-out rallies this year," said Elida coach Bob Elsass. "The kids don't quit. There's no holding back. They just love to hit that ball and make things happen."
Then in the sixth after Celina squared the game again, Whalen singled with one out and stole second. After Hollar grounded out to move up the run, Trista Jones grounded to third, but the throw pulled the first baseman off the bag and allowed Whalen to score the game-winner.
"The kids came out and were told to put the ball into play and good things would happen," said Elsass. "I thought we did a pretty good job putting the ball into play. We had a few strikeouts. I thought we hit the ball pretty well actually,"
In the bottom of the sixth, Homan reached on a one-out single. Amy Harner then connected on the perfect bunt that hugged the third-base line to put runners on first and second. Hollar then got Heyne to strike out and followed by snagging an Allison Braun liner to end the inning.
Hollar picked up the win on the hill allowing nine hits and walking just two batters while striking out three.
"We told them going into the sixth that (Celina) had scored in every inning," said Elsass. "We just needed a 1-2-3 inning one time and we'd get that momentum on our side. She did settle down and started hitting her spots. That was great."
Heyne took the loss despite a solid outing, not walking a batter and striking out nine and allowing just one earned run out the seven that Elida scored.
Amy Harner went 3-for-4 with a triple and two RBI to pace the Celina hitting attack while younger sister Audrey Harner added a 2-for-3 day with two runs scored.
Celina still has a chance to play for a Western Buckeye League title this week with Wapakoneta coming to town today and then a trip to Elida, who is also in the WBL title chase, on Thursday.
"We're shooting for a WBL title," said Driggs, whose team is 5-1 in the WBL. "We're not going to lose our focus. We're going after what we believe is ours. The fight is still on in the WBL."