By Shelley Grieshop
sgrieshop@dailystandard.com
ST. MARYS -- A man who robbed a St. Marys bank at gunpoint Tuesday remains at large this morning.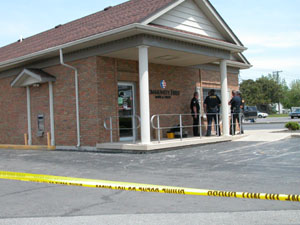 St. Marys police have joined forces with the FBI to track the suspect they believe may be responsible for several other recent robberies in the region.
Several of the half dozen bank tellers at Community First Bank & Trust were visibly shaken when the suspect, armed with a handgun, leaped over the counter and demanded cash about 11:30 a.m., according to St. Marys Police Chief Greg Foxhoven.
"Some were doing well, some were very emotional, and that was understandable," he said.
There were no customers in the bank at 1210 Celina Road when the robbery occurred, and no one was injured. Foxhoven praised bank employees for following emergency protocol. The suspect is described as a white male, between 5-feet-3-inches and 5-feet-5-inches tall, 30 to 40 years old with a stocky or muscular build. He wore dark, baggy carpenter pants, a dark T-shirt with writing and black tennis shoes, and had curly, wavy hair that was thinning on top.
The man reportedly entered the building wearing sunglasses and carrying a ball cap, which he later placed on his head when the robbery began. He can be seen clearly brandishing a handgun on the bank's security camera video before taking an undisclosed amount of money from a teller and fleeing the business on foot.
Witnesses reported seeing him head east in front of the Lucky Steer Restaurant before disappearing behind several buildings in the business district on the northwest side of the city.
Police were alerted by the alarm company contracted by the bank and arrived at the scene within minutes, Foxhoven said. K-9 units were brought in from area law enforcement agencies and led officers to a nearby residential street where the dogs soon lost the suspect's scent, Foxhoven explained.
"We're speculating he got into a car at that point," he said.
With the help of about 20 Auglaize County Sheriff's deputies and Cridersville Police officers, a door-to-door search was implemented to protect nearby residents.
"We talked to neighbors and generally made sure everyone was OK," Foxhoven added. "It was a pretty tense situation for a while."
St. Marys Police received countless tips throughout the day concerning open doors and strangers in the area but none of them yielded any positive leads, Foxhoven said.
Within minutes of the robbery, police contacted nearby St. Marys West Elementary School where hundreds of children were playing outside during their mid-day recess. School Principal Lisa Elson said staff members immediately gathered all students indoors.
"We then locked all exterior doors and kept everyone inside," she said.
As school dismissal time neared and the suspect remained on the loose, a decision had to be made, Elson said.
"We didn't feel secure releasing students who walked home or would arrive home to an empty house," she said.
With the help of the entire staff of the first- through sixth-grade building, every parent and guardian of all 516 students was called and told their children had to be picked up in person, Elson said.
Most of the students, particularly the younger ones, were told the schedule changes were due to an emergency in town. The children and parents handled the incident well, she added.
FBI Detective Paul Pape from the Lima office said the robbery is similar to others currently being investigated by his agency, although he would not release details.
Because the suspect did not cover his face during Tuesday's robbery, the FBI strongly believes he is not from the local area.
The FBI is offering a "substantial" award for information leading to an arrest in the case, Pape said. If anyone has any information on the robbery or the identity of the suspect they should call the St. Marys police at 419-394-2325 or the FBI at 419-223-7761.
The last armed robbery in the city took place in January 1999 at a former Burger King restaurant, less than a mile down the road from the Community First Bank. Jamon A. Flowers, a resident of St. Marys, was arrested shortly after the robbery and later sentenced to 10 years in prison.