MINSTER -- Opening night of the Midwest Athletic Conference Track and Field Championship at Memorial Field in Minster couldn't have been more kind to the home school.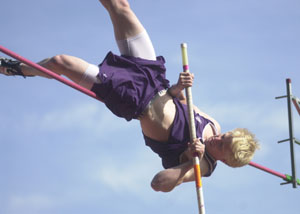 Following five field event finals and the 3,200-meter relay, both the Wildcat boys and girls teams find themselves perched atop the standings for the time being.
Coach Larry Topp's boys led a tight contingent of area teams with 47.5 points, nine ahead of the Versailles Tigers. The Parkway Panthers are sitting in third place with 30 points, while the Coldwater Cavaliers are right on their tails with 27 points heading into day two on Friday.
"We are guardedly-pleased with how the guys did tonight," explained Topp. "We normally place a lot of emphasis on our field events, and I think we did about as well as we could have expected to. The pole vault came through with a lot of points for us, and the shot and discus held up their end, as did Michael McVety in the long jump.
"This is the MAC, and it is going to take everyone's best effort to continue to stay where we want to be after it is all over." Six of the 10 MAC teams enjoyed first-place finishes including Paul Metzner from Delphos St. John's in the pole vault (14-0), Minster's Andrew Meyer in the shot put (51-71Ú2), Coldwater's Brian Brunswick in the high jump (6-2), New Bremen's Chris Grant in the long jump (20-81Ú2), and Parkway's Jason Fisher in the discus (162-4). The Versailles 4x800-meter relay team added to the diversity with their top finish in a time of 8:12.42.
For the girls, the home-standing Wildcats collected 44 points overall, but are knotted for the top spot with Versailles. The Wildcats were led by their perennially-strong and defending MAC-champion 4x800-meter relay foursome, who finished the race in a time of 9:32.99, eclipsing their season-best time by nearly nine seconds. The Wildcats also ruled the high jump with Ashley Meiring grabbing the MAC title with a height of 5-2. Her (Continued from page 1B)

teammate, Stacey Sudhoff, placed second in the event with a leap of 5-0.
Delphos St. John's senior Alisha Anthony grabbed her second consecutive MAC crown in the long jump with a distance of 17-31Ú4 , while Fort Recovery's Holly Stein also added another MAC shot put trophy to her collection with her heave of 38-11Ú2. Parkway's Jessica Felver was victorious in the discus with a throw of 117-6, while the pole vault went to last season's MAC champ, Versailles'Amanda Barlage, who cleared 11-3 for the win and dismantled her own meet record she set last season by 11Ú2 feet.
"We were pleasantly surprised about a lot of things tonight, and we are also very happy with where we are," remarked Minster girls coach Kristin Heitkamp. "We talked a lot this week about pushing each other and making this a team effort from now until the end of the season. With this being the MAC meet on our home track, it is very important for us to come together and support one another in all of the events."
Action resume on Friday at 6 p.m. beginning with the girls' 100-meter hurdle finals.
Phone: (419)586-2371, Fax: (419)586-6271
All content copyright 2006
The Standard Printing Company
P.O. Box 140, Celina, OH 45822