Just six weeks after graduation from Fort Recovery High School, 18-year-old Elizabeth Fortkamp will enter the U.S. Army.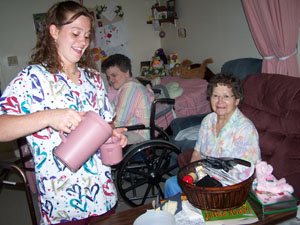 She is following in the footsteps of her grandfather, who was a soldier during the Korean Conflict.
Fortkamp says she chose the military so she could travel, get a free education and meet a lot of people.
"There are things that bother me, but there is a huge opportunity there," says her mother, Bonnie Fortkamp, a nurse's aide at Briarwood. "I know she has the brains, and she is a people person."
She plans to follow in her mother's career path, having chosen health care as her military occupation speciality. Her younger sister, Lyndsey, admits to be a little worried about her big sister having to travel overseas.
First, Fortkamp will participate in nine weeks of basic training in Missouri in the heat of the summer and then 19 weeks of advanced individual training in Fort Sam, Houston, Texas. After training she will submit a wish list for a job location and may have to face the reality of being shipped to war.
"I could go anywhere," Fortkamp says.
She has been told that with her speciality in health care, she likely will be working in a hospital.
She signed with the Army in November, when she was just 17, for five years of active duty and three years on standby, meaning she could be called back to duty if needed.
After earning a medical background through the Army, Fortkamp will need only English and math requirements to complete a college degree. She will have the opportunity to take free classes at Fort Sam.
Fortkamp already is working toward an E-3 rank, putting her two ranks above others entering boot camp. She can earn this by recruiting a family friend to the Army, which she already has done, and by passing a test on "everything they want you to know before you go into the military," she says. If she passes the test, she will achieve her E-3 and a second pay raise before even putting a foot into boot camp.
The military may not be the right choice for many young teenage girls, but Fortkamp says the Army made sense for her.
Every student at Fort Recovery High School takes an Armed Forces aptitude test, showing what careers may be good for them. After watching a video with the recruiter, Fortkamp says she got it stuck in her head the Army and a health care career is what she wanted to do.
Now she is "excited to graduate and be on her way," she says.
Phone: (419)586-2371, Fax: (419)586-6271
All content copyright 2006
The Standard Printing Company
P.O. Box 140, Celina, OH 45822