Studying the geometric shapes of crystals is what Austin Kemper will be doing after high school.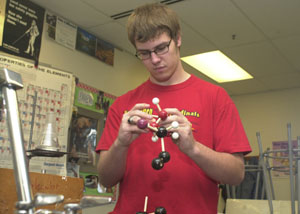 The New Bremen High School senior plans to study biochemistry, with a concentration in crystallography, at Case Western Reserve University in Cleveland this fall.
Kemper, 18, hopes to get a bachelor's degree and eventually obtain a doctorate. His goal for the future includes a career in research, focusing on the development of crystals, which help scientists untie mysteries to how things are built.
"I looked into biochemistry because I like the small parts of chemistry," says Kemper, who also is a three-year football letterman.
He became hooked on crystallography when he attended an open house at Case Western. Crystallography involves growing crystals and bombarding them with X-rays to see how they are made, Kemper says. His choice to go to Case Western came after he investigated Western Michigan University. He says Western Michigan also has a good program, but not the prestige of Case.
Kemper doesn't see himself coming back to the New Bremen area after college; he figures the opportunity for crystallography research isn't here.
At New Bremen High School, 63 of 69 seniors have plans to attend college after high school. Most Grand Lake area schools send a majority of graduates off to college after high school.
Kemper admits he may miss his close-knit friends when he leaves for classes in Cleveland, but says he isn't too worried about being five hours away from home. He, like many other seniors in the area, is excited for his college career to begin.
Phone: (419)586-2371, Fax: (419)586-6271
All content copyright 2006
The Standard Printing Company
P.O. Box 140, Celina, OH 45822