By Margie Wuebker
mwuebker@dailystandard.com
EGYPT -- Mike Bruns stands in the midst of his dining room surveying the aftermath of a fire -- the latest in a string of tragedies to befall his family.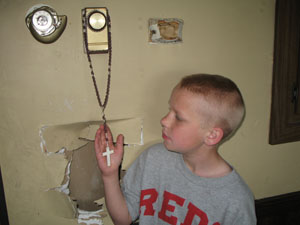 Bedrooms down the hall bear the heaviest damage from the March 23 blaze, but little on the first floor escaped the effects of heat, smoke and water. That is, except for a dark brown beaded rosary with a white plastic cross draped around a thermostat.
Thermostats on either side melted from the heat and two motivational clippings taped to the side of a nearby kitchen cabinet disintegrated. The remaining clipping, which bears telltale evidence of heat exposure, encourages the reader to avoid discouragement in the midst of trials and tribulations.
Firefighters from Fort Loramie, Minster and Osgood expressed amazement that the plastic rosary did not melt in the fire, telling the Bruns family they had seen nothing like it during years of volunteer service.
"We see a lot of strange or unusual things," Fort Loramie Fire Chief Jerome Barhorst says. "That rosary really affected a lot of the guys. They're still talking about what they saw." Minster Fire Chief Dale Dues added there is no explanation why the thermostat and the rosary surrounding it escaped intact without so much as a blemish.
Bruns, a contractor and farmer, felt the need to stop at home that day. His six youngest children, ranging in age from 9 to 19, had no school or appointments. All were in the barn taking care of calves when he pulled into the driveway shortly before 10:30 a.m.
"I noticed smoke coming from the house and went to investigate," he recalls. "I didn't get far due to the smoke and heat."
One son called 911 to report the fire. Instead of reaching Shelby County Central Dispatch, the call was picked up by Auglaize County dispatchers who sent St. Marys Township Fire Department to the scene along state Route 364.
Pacing in the driveway of the home, located south of Egypt and just across the Shelby County line, Bruns listened for the wail of sirens and heard nothing except calves bawling for attention. The second call placed at 11:08 a.m. went through to the proper channels. The driveway quickly filled with fire trucks and firefighters in turnout gear.
"Our home is filled with a lot of memories," he says. "I prayed the fire would spare my wife's things -- pictures, books and other mementos."
Mary C. Bruns, the former Mary Schwieterman of Coldwater, died May 8, 2005, following a four-month illness. The couple's 11 children filled her room at Mercer County Community Hospital in Coldwater. It proved to be a Mother's Day none of them will forget.
She had been diagnosed with breast cancer four years earlier. Aggressive treatment restored her health and the cancer disappeared.
"Mary was blessed with three good years," he says. "However, cancer returned in October 2004 and spread to the brain, liver and lungs. Everything went downhill after March."
The 53-year-old woman turned to alternative medicine when other weapons in the oncologist's arsenal failed to respond like before. She summoned all her energy, vowing to attend five special events -- a baby shower, a bridal shower, the First Communion of youngest son Michael, the wedding of another son and the birth of a first grandchild. Time ran out 10 days after Michael's special day.
Buried in her wedding gown, the woman who clung steadfastly to the motto "I live to love and I love to live" left behind a legacy of faith and optimism for her husband and their family. She taped motivational passages to the kitchen cupboards and hung rosaries at various places throughout the house.
"We lost only material things -- Mary's books, videos the family put together for the funeral, clothing and furniture," Bruns says. "The clothing and furniture can be replaced; all the memories remain in our hearts and minds. Thankfully, no one was hurt."
The fire, which is believed to be electrical in nature, did the heaviest damage in the area of the bedrooms and basement. He rubs his arms as if to chase away a sudden chill before pointing out there could have been loss of life or injury if flames had erupted at night when everyone was asleep.
"I learned an important lesson while attending grief classes after Mary's death," he says. "Take each day as it comes and don't worry about yesterday or tomorrow. We'll get through this; we've been bit by bigger dogs and kept on going."
Family members, who have been living in two travel trailers and a construction company mobile office at the farm, will be moving to Minster soon as negotiations continue with the insurance company. Once the go-ahead is given, Bruns plans to remove a section of the dining room wall containing the thermostat and rosary and place it in a glass case.
"It will be a constant reminder that good comes from bad," he says. "And that you never have to look far to find hope rising from the ashes."