By Margie Wuebker
mwuebker@dailystandard.com
MINSTER -- Wilbur and Orville Wright put in cameo appearances as did Wally Post, Judith Resnick, Dave Thomas, Phyllis Diller and Halle Berry.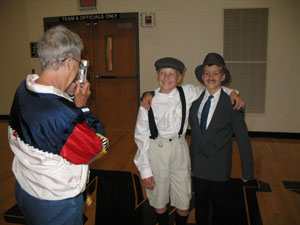 And no one asked for autographs.
Fourth-graders at Minster Middle School assumed the personalities of famous Ohioans on Tuesday afternoon for the All-Ohio Wax Museum.
"We've been doing this for about eight years," teacher Susan McDaniel says. "It is a learning experience, but the kids enjoy it as much as all the visitors."
The mission began weeks ago with students doing research at the libraries. They then incorporated their work into a written report and finally an oral speech. Now they stand as if frozen in time waiting for the doors to open. Margaret Shultz literally springs to life as a visitor pushes the orange dot on her hand -- a signal to launch into her memorized spiel.
"I am the singer and actress Doris Day," she proclaims. "I like singers and actresses; she starred in more than 42 plays and movies."
She dressed for the occasion in a deep blue velvet suit trimmed with matching fur. Silver hoop earrings added the finishing touch.
Jarod Schmitmeyer had no problem coming up with a suitable personality.
"I chose Orville Wright because I like airplanes, and there is tons of stuff about he and his brother," he says, readjusting a dapper-looking hat. "I wound up filling 30 note cards.
Schmitmeyer's best buddy, Andy Albers, portrays the other half of the dynamic duo of aviation fame. As Wilbur Wright, he speaks of a fascination with gliders -- a fascination that eventually led to a short, but memorable flight in a newfangled airplane.
"I learned Wilbur Wright loved ice hockey but was not able to play after an injury," Albers says. "Jarod and I worked together on research and that was fun."
Shelby Wente, a vision with red hair, freckles and a pink and orange dress, needs no prompting to talk about her character, actress Halle Berry.
"Halle was in the movie 'Monster Ball,' but I never saw it," she says. "The most interesting thing is she was placed on three years probation and fined $13,500 for leaving the scene of an accident."
C.J. Garrett loves Wendy's bacon cheeseburgers and french fries. So it should come as no surprise he selected fast food restaurateur Dave Thomas.
"I knew I had the right kind of clothes because the commercials show him wearing white or tan," Garrett says flashing a broad smile. "Did you know a cheeseburger cost 1 cent when he was born?"
Casey Schmidt really wanted to be Catherine Sullivan but twin sister Sydney chose the astronaut first so Judith Resnick became the alternate choice.
"Catherine was the first woman to walk in space," she says. "Judith also played an important part in the space program, spending 144 hours and 57 minutes up there. She died in the Challenger explosion."
Wearing a flamboyant red outfit with her tresses looking like the aftermath of a run-in with an egg beater, Hannah Barga tells a visitor Phyllis Diller grew up in Lima. Her hand with a long cigarette holder moves almost as fast as her lips.
"Most people don't know she is a gifted painter and writer," Barga says. "They just consider her a funny woman. She can deliver 12 punch lines per minute."
Taking a much-needed breath, she resumes a wax museum pose until the next visitor comes along.
Phone: (419)586-2371, Fax: (419)586-6271
All content copyright 2006
The Standard Printing Company
P.O. Box 140, Celina, OH 45822