By Ryan Hines
rhines@dailystandard.com
COLDWATER -- It took all seven innings for Parkway's bats to wake up and when they finally did, the game came to an abrupt halt with Panther fans left scratching their heads.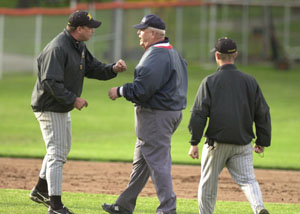 Coldwater got six no-hit innings from Sam Slavik and turned five hits into three runs as the Cavaliers escaped Veterans Field with a 3-1 victory over Parkway in Division III district semifinal action.
The Cavaliers looked to have the game in hand leading into the final frame with a three-run lead and a pitcher on the mound that had already thrown six no-hit innings, but the Panthers had comeback plans.
Jensen Painter broke up Slavik's no-hit bid with a single to lead off the seventh inning and Trevor Krogman then put two runners on for Parkway after being hit by a pitch.
Coldwater assistant coach Jason Hemmelgarn walked out to the mound and talked with the Cavalier righthander and Slavik responded with back-to-back outs. A passed ball moved Painter and Krogman to second and third before Parkway pinch-hitter Cody Brandt walked to load the bases. Rikki Covarrubias broke the Coldwater shutout with an RBI single off of Slavik with the top of the Parkway batting order up next.
Derek Snyder then hit a slow roller to short where the Cavs' Cory Klenke cleanly fielded it but bobbled the ball causing a late throw to first with Snyder sprinting down the line. The close play was ruled an out ending the game while Panther fans and coaches argued and screamed in disbelief.
"I always tell the kids that you can't let umpires decide the game, but I feel like we got cheated. I'm not sure how he could
have called him out," said Parkway head coach Eric Stachler, who was visibly upset about the call from the base umpire. "It's frustrating to have the game end like this, it's disappointing.
"We showed a lot of fight coming back like we did in the seventh after getting no-hit for six innings. I think that we had them flustered in the seventh, but our comeback got cut short," said added Stachler.
Coldwater head coach Brian Harlamert had a different view of the final play.
"I thought that he was out," said Harlamert. "It was a bang-bang play. Cory charged it and bobbled it, but made a strong throw to first. We were lucky to get the out. You can't blame the umpires, it took a good play and we made it."
The controversial ending overshadowed a steller pitching performance by Slavik as the junior went all seven innings allowing one run on two hits while striking out seven and walking four. Slavik also benefited from a clean day in the field by the Cavaliers as the Orange and Black didn't make an error in the game.
"I was able to get my curveball over to get ahead in the count and then tried to use the fastball to sneak it past them," said Slavik. "Our defense did a heckuva job behind me with no errors."
"Sam took over this game on the mound," lauded Harlamert. "He was in control and he's tough to hit when he's getting his curveball over for strikes. He has a great breaking ball and his fastball is deceptively fast. He's the ace of our staff right now, he wanted the ball and he delivered. He was on and we got on his back."
Riley Muhlenkamp had two RBI singles in the game, the first of which came on an infield single to put the Cavs up 1-0 in the first inning. He then added a two-out RBI single in the sixth for a 2-0 Coldwater advantage.
Adam Giere gave the Cavaliers an insurance run in the top of the seventh with a towering solo home run to rightfield putting Coldwater up 3-0.
Phone: (419)586-2371, Fax: (419)586-6271
All content copyright 2006
The Standard Printing Company
P.O. Box 140, Celina, OH 45822