By Gary R. Rasberry
grasberry@dailystandard.com
ST. HENRY -- After a week off due to the rain -- which provided a change of location for the game -- New Bremen and Fort Recovery finally met in their Division IV softball sectional final.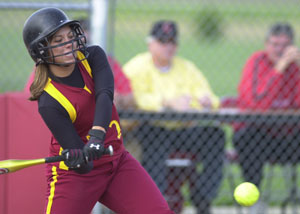 Both the Cardinals' Maria Staton and the Indians' Kinsey Wenning showed no signs of rust as the pitchers kept each other's team from scoring through the first 51Ú2 innings.
In the bottom of the sixth, though, New Bremen got a runner on with an error and Krista Bertke brought her home to give the Cardinals a 1-0 win in a game that was moved to St. Henry's Wally Post Athletic Complex.
The 16-6 Cardinals now play St. Henry today, tentatively scheduled at New Bremen, in the district semifinal with the winner moving to Wapakoneta on Thursday to play Allen East, which beat Spencer-ville 4-3 in a district semifinal game at Spencerville on Tuesday. Fort Recovery drops to 8-15.
"They made plays. We made plays. One run in these types of games is going to win it," said New Bremen coach Craig Griesdorn. "We were hoping that would be us. We were able to scratch a run." Both pitchers were able to breeze through most innings as the contest lasted just 64 minutes. Staton struck out the side to start the game and allowed just six baserunners in the game on three hits, a walk and two reaching on errors.
The Cardinals made some big defensive plays to help Staton when she wasn't able to record one of her 11 strikeouts, Sara Rutschilling made a diving catch of a Kelsie Will pop-up in the second, then in the third after Lauren Wenning singled, caught a Val Fortkamp lineout and threw to first to double up Wenning to end the inning.
"We left a lot of people on base," said Tribe coach Marie Osterholt, referring to the six Fort players stranded. "That happens. I'm really happy with the way we played."
"We got out of some jams," said Griesdorn. "Made some plays when we had to make it. I told the girls from this point on, you have to play solid at both ends (offense and defense)."
Kinsey Wenning, a freshman, walked the first batter she faced, then retired nine in a row before giving up another walk in the fourth. Then defense came up big.
After New Bremen's Elly Cisco walked in the fourth and Kim Thobe came on to run, Brenda Evers threw down quick to first where Lauren Wenning tagged out Thobe for the out. In the fifth after Staton broke up the no-hitter with a single and Becky Hartwig moved Staton up on a bunt. Lindsey Bailey then lined a shot to center, where Val Fortkamp made the stop for the third out.
The only run came in the sixth. With one out, Rutschilling grounded to third but the throw to first pulled Lauren Wenning off the bag as Rutschilling reached on the Indians' error.
Cisco bunted Rutschilling over to second to bring up Bertke, who took the first offering deep into the gap between third and shortstop for a hit, allowing Rutschilling to score.
"That's the girl we wanted up there," said Griesdorn of Bertke. "She puts the ball into play. She was able to find a little bit of a hole by the third baseman and knocked the run in."
Kinsey Wenning took the loss despite allowing just three hits and walking two along the way.
"She pitched a heckuva game," said Osterholt. "She pitched great. We played a great game. You can't ask for anything more than a 1-0 game. Both teams played great. I'm really proud of my girls. They came out and played well.
"I am happy with her pitching. She's only a freshman. That's a very great outlook for us."
Phone: (419)586-2371, Fax: (419)586-6271
All content copyright 2006
The Standard Printing Company
P.O. Box 140, Celina, OH 45822