By Gary R. Rasberry
grasberry@dailystandard.com
ELIDA -- Parkway softball coach Mark Esselstein admittedly had a little concern as his team's Division III district semifinal started up again on Thursday at Elida against Coldwater.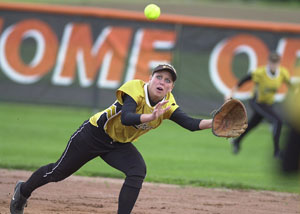 When last on the field (Wednesday), the Panthers were up 2-0 with runners on the corners and ace Tiffany Steinbrunner throwing a solid game.
However, Elisha Schumm was picked off first by Cavalier catcher Tasha Stucke to end the fourth inning, then in the top of the fifth, Beth Giere took Stienbrunner's first offering to centerfield and ended up at third following a Panthers' error.
But reality set back in as Steinbrunner struck out the last two batters of the inning and the Panthers' offense scored two more times to beat Midwest Athletic Conference rival Coldwater 4-0 at Dorothy Edwards Field.
The Panthers (17-3) now play Evergreen today at Bath with a district championship on the line. The Vikings beat Archbold in the other district final up north. "You never know how that situation can affect you," said Esselstein. "They had a big momentum play to end the fourth, then they got a runner in scoring position right away and we were able to get out of that."
Giere lofted a fly to center that Brittany Young misplayed, allowing Giere to get to second. Brooke Gross moved the runner up on a groundout. Katie Welsch bunted in an attempt to get Giere home, but the Panther defense chose to let her reach on a single. Steinbrunner got out of the jam herself, striking out Diana Schwie-terman and Renee Hemmelgarn to get out of the inning.
"I was hoping to use the momentum off that pick-off play to get us going," said Coldwater coach Jack Mescher. "We got a couple of runners on. It was just one of those nights where we couldn't pull the trigger and get that hit when you needed it."
Steinbrunner allowed just two hits in the game, walking none and striking out six to go to 15-1 on the season.
"Tiff was so on last night, that it was probably a little toward Coldwater's advantage (that the game was suspended). I don't know if she would recreate that same sharpness she had last night," said Esselstein. "She threw well again tonight. We made a couple mistakes defensively, but we played through it and she made some big pitches when she had to.
"We would have loved to played through last night, but we have a pretty experienced group of kids here. I was confident they could handle it well."
Steinbrunner also was solid with the bat, going 3-for-3 and driving in two of the four runs -- the other two came in on a passed ball and throwing error. Young, Ashley Gamble, Elaine Crowell and Jan Boroff each had a hit.
Coldwater starter Amber Heyne allowed two earned runs, didn't walk a batter -- hitting one -- and struck out three while scattering seven hits.
"Errors really hurt us this game," said Mescher, referring to the three errors by the Cavaliers. "First play of the game (on Tuesday) we had an error. That set the tone. You can't afford to do that against a team like that. They'll take advantage of that."
Coldwater will have a chance for revenge on Saturday as the two teams meet in Mendon in the final MAC game of the season. A win for the Panthers gives them a 7-0 league record and the outright title. A Cavalier win splits the title between the two teams.
Phone: (419)586-2371, Fax: (419)586-6271
All content copyright 2006
The Standard Printing Company
P.O. Box 140, Celina, OH 45822