By Shelley Grieshop
sgrieshop@dailystandard.com
ST. MARYS -- It was a quiet Labor Day morning when a stroke changed John Wine's life.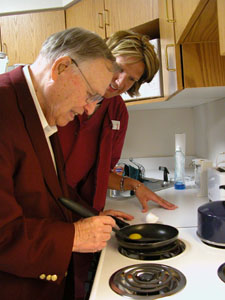 The 86-year-old St. Marys man had settled in at his home computer to e-mail one of his sons. His duties as a minister familiarized him with such technology, but today something was different.
"All at once something happened to me, I couldn't even turn the thing on," he says slowly.
His wife, Ruth, of nearly 58 years, recalls watching her husband hold his hand to his head in a confused state.
"I just knew something was wrong," she says. Ruth Wine says she now regrets waiting to take her husband directly to the hospital. It was about five hours later when she brought him to Joint Township District Memorial Hospital in St. Marys, where the diagnosis was made: he'd suffered a stroke.
The couple were devastated. The once proficient speaker who preached at several area churches and held several community leadership roles now wondered if he'd ever be able to walk or be understood.
Strokes, the third leading cause of death in America and the number one cause of adult disability, occur most frequently in people aged 75-84 years old but can strike at any age, according to the Ohio Department of Health. People who smoke, are overweight and lack regular physical activity are most at risk.
A stroke or brain attack occurs when a blood clot blocks an artery or a blood vessel breaks, interrupting blood flow to the brain. Brain cells begin to die and brain damage can occur quickly. Medical attention is needed immediately.
John Wine suffered damage to his left hand and general weakness in other muscles in his body. Besides trouble finding the right words in conversation, he also has difficulty maintaining balance. His wife lovingly reminds him to use stair rails to prevent falls.
"She's a nice gal, I'll tell ya," he says with a big grin.
He's been "a real trooper" through scores of speech, occupational and physical therapy sessions and has come a long way in his eight months of recovery, says hospital Rehabilitation Director Sara Busacca. Still, Wine questions his progress daily, yearning to be the man he was before tragedy struck last September.
"I just know I'm not what I used to be," he tells Busacca in frustration. "When do you get over this?"
With a reassuring smile she doesn't sugarcoat her reply.
"It's a daily struggle so we have to accent the positive," she says. "You may always have trouble communicating. But you can get up and walk on your own, that's something. The bottom line is you keep working at it, and you may get to your highest functioning point. That may not be as good as you'd like it to be, but it's better than where you started."
John Wine isn't the only victim of the cruel illness. Ruth Wine misses the "people person" she married, the man who could conquer anything.
"It's very hurtful to me when he can't do the things he loves. It breaks my heart," she says.
The couple together raised four sons and are proud grandparents and great-grandparents. They continue to follow the same plan of earlier years: take each day as it comes and adapt. For example, Ruth Wine has learned to ask for clues when words don't flow smoothly from her husband's mouth.
"Communication is the toughest," but increasing socialization seems to help, she adds.
"It's a long road we're on, but we never forget to thank the Lord for the small things," she says.